June 29th to July 26th 2009
This trip organized by Biosphere-Expeditions had the primary aim of finding evidence of the presence of the Snow Leopard in the region.
The following are the diary entries for the time I was present with relevant photos and lists of plants with photos and birds photographed.
For the original Flikr page please link to Altai 2009.
Main Menu.
Diary Entries
These entries were made and posted on the Biosphere web site while we were away. Some of the general photographs taken have been inserted between the entries.
Monday 29 June - Novosibirsk to Oost Cema
Up at 07.00, packed the Land Rovers, had an enormous breakfast and then set off for the golden mountains of Altai. The road was busy, the local drivers were a bit crazy and the police were out in force.......

Most of the journey was over flat arable ground with wildflower-filled roadside verges, but as soon as we crossed the border into Altai, hills and then mountains appeared.

We spent the night just outside Oost Cema at a beautiful spot by a small river. We had lovely new wooden chalets, complete with en-suite hot showers!
Until a few years ago, only the biggest of cities had any kind of plumbing at all, never mind hot showers!
Tusday 30th June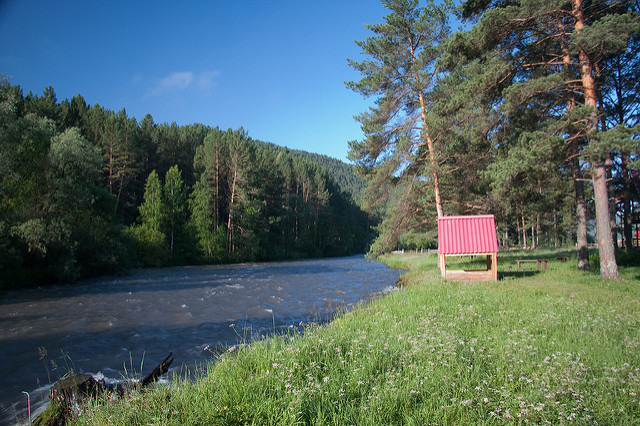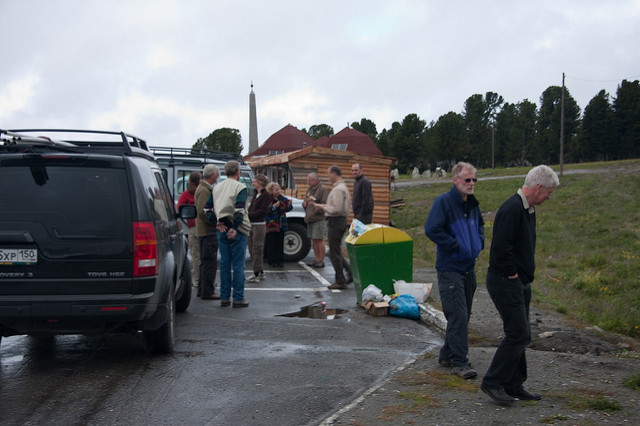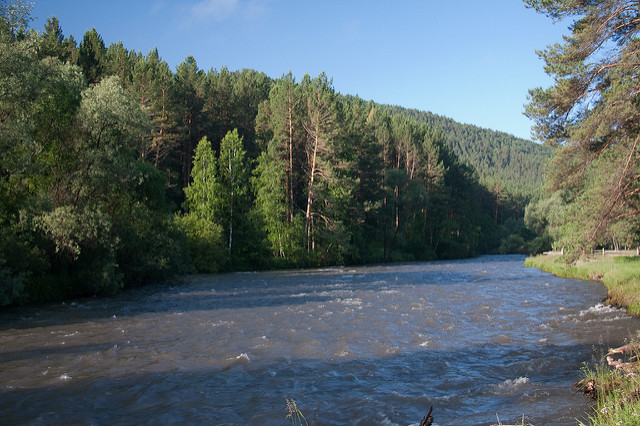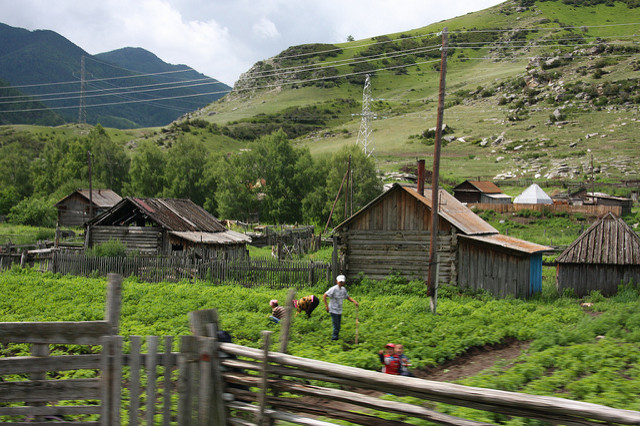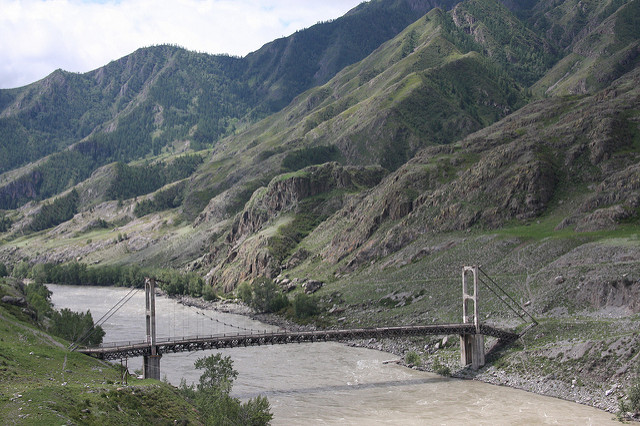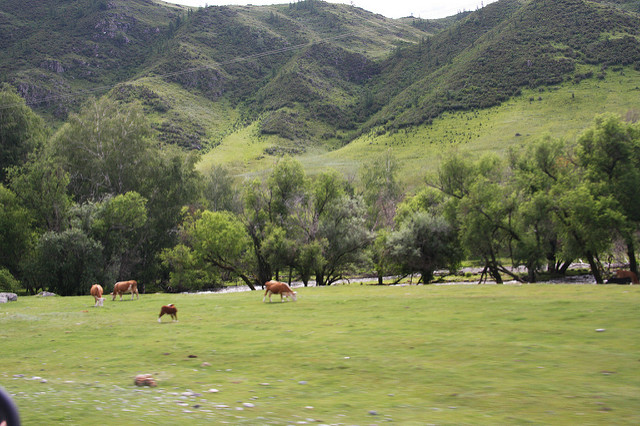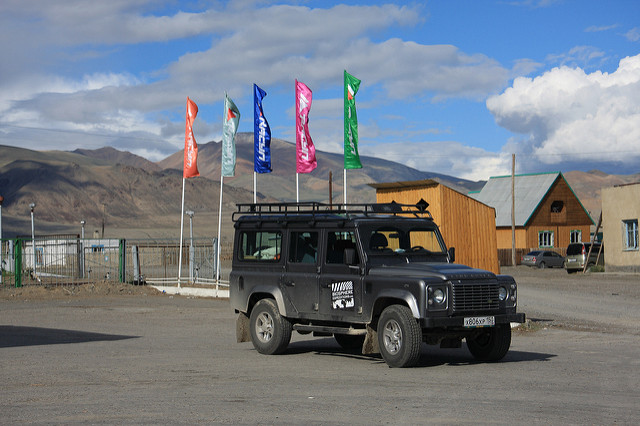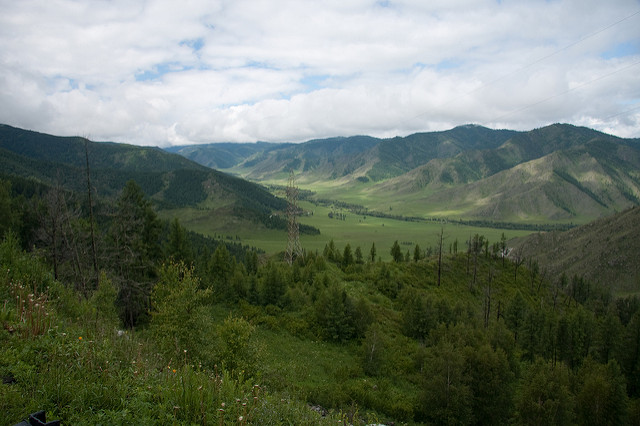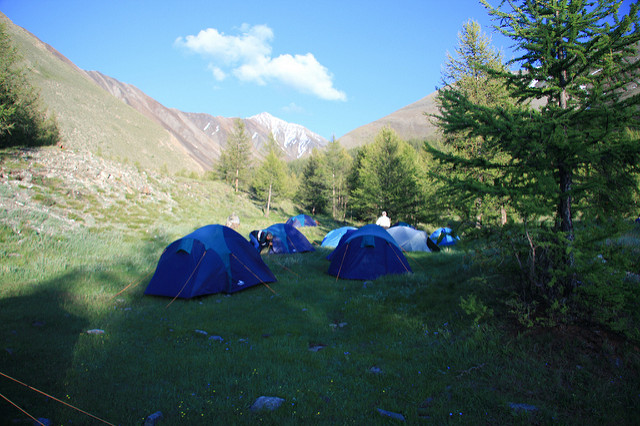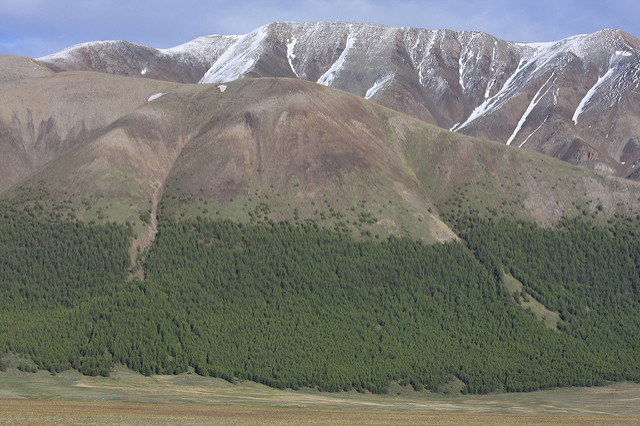 Wednesday 1st July - Training
It was quite cold at night and our tents were covered with frost in the morning. Ernst got the expedition off to a great start by spotting a group of three Siberian ibex on the mountain by base camp. These animals were difficult to see; Ernst will be a great asset to the expedition! After breakfast in the mess tent, dodging the drops of melting frost as they fell when the sun rose, we started the training. Risk assessment first, science with Volodya and then off-road driving. Toby managed the steep hill descent much more quickly than anyone else; maybe we'll use a lower gear next time eh! Rob had fun with the failed hill climbs, getting lots of practice in so he's the expert there!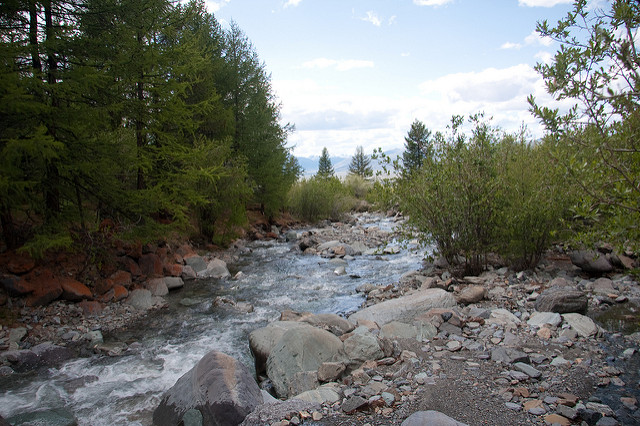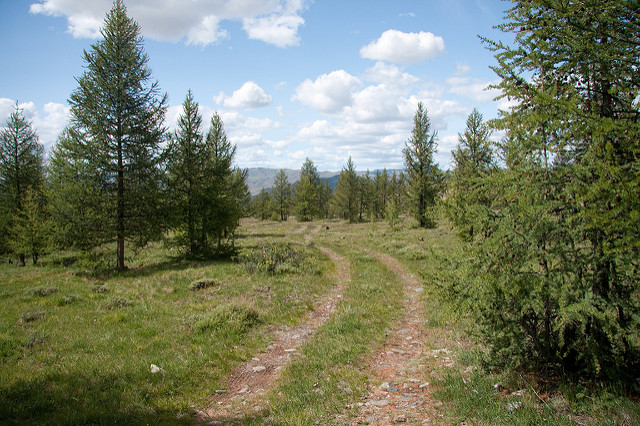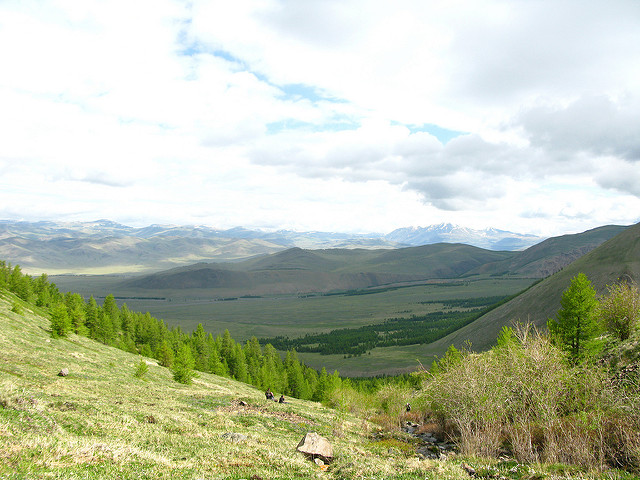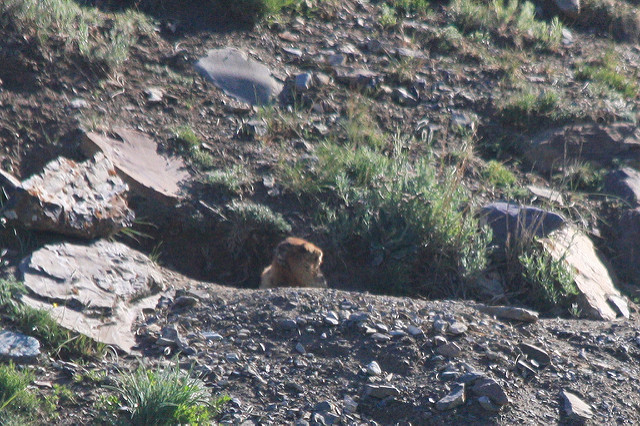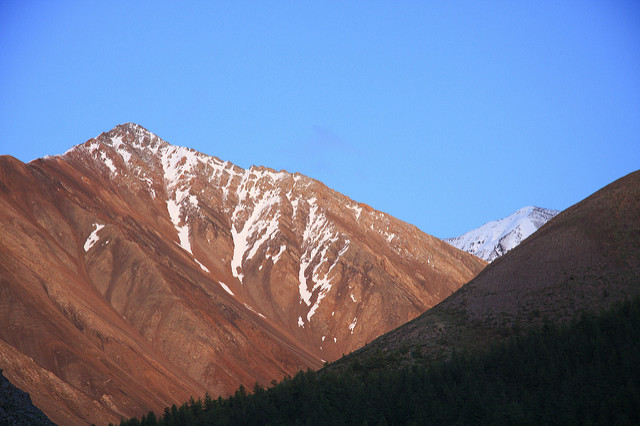 Thursday 2nd July - First survey day
Along with Isabella, Heike, Gunter, Ernst and Pete, I surveyed a valley near base camp. It was stunning, filled with great swathes of wildflowers in purple, vivid blue, yellow and orange. Spring has been late in Siberia this year and there were many hollows where the grass was dead as the snow had just melted; but in the pools of dead brown grass, beautiful pristine blue gentians had sprung, the vanguard of bountiful life in the short Siberian summer for that little patch of ground. But it was not the flowers that were the highlight for me. In the previous six years of the expedition, there has been only two sightings of snakes of any kind - vipers, by the end of the day, we had seen five! Fantastic! We have now re-named that survey route 'Viper Valley'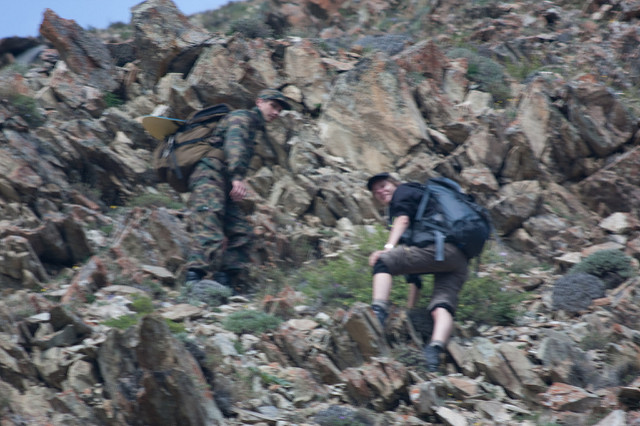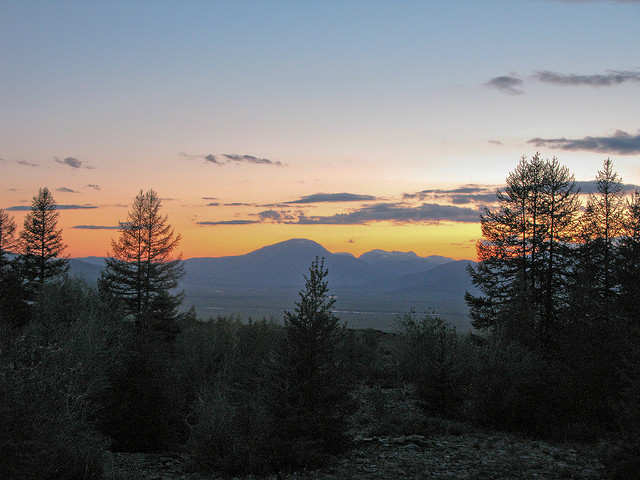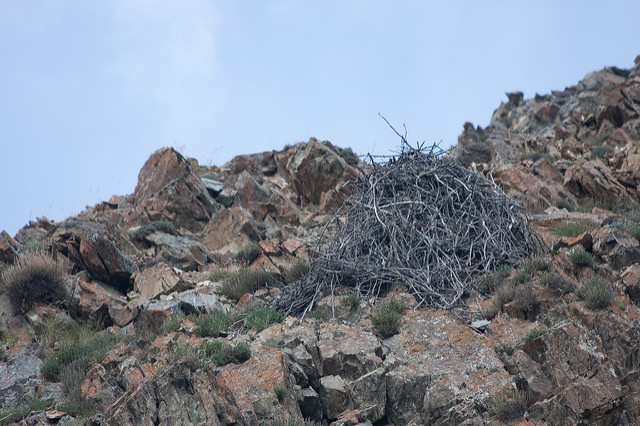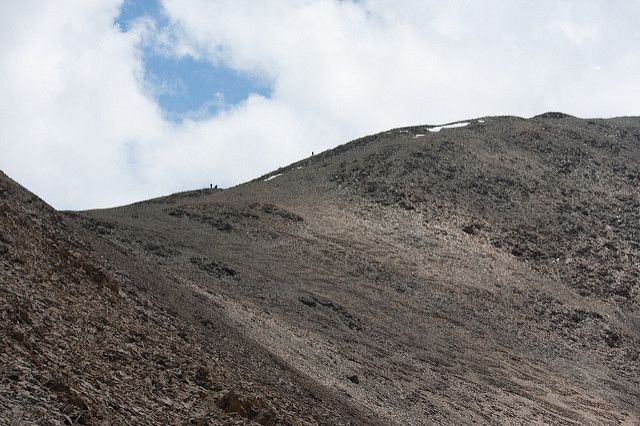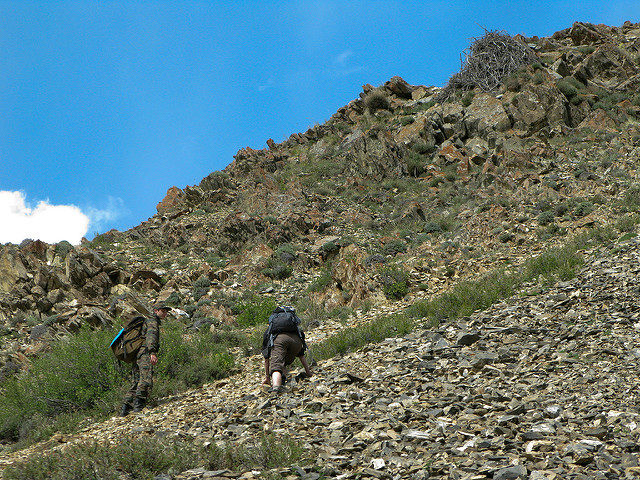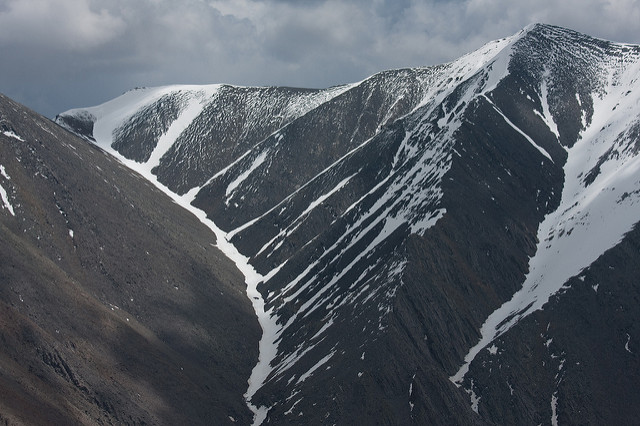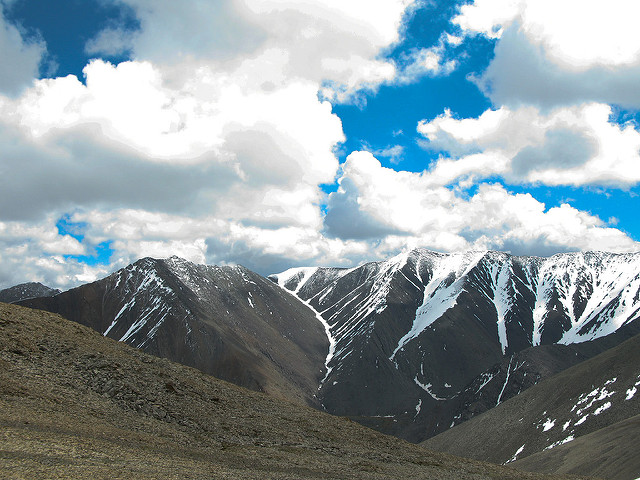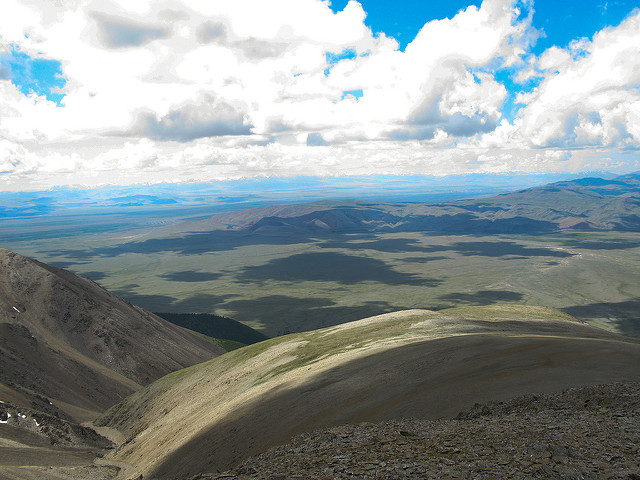 Friday 3rd July - Travel to Tapduair
After breakfast we loaded up the Land Rovers with tents, food, firewood and field guides and headed off to Tapduair on the far side of our mountain range. It was difficult to find somewhere decent to stop for lunch, so in the end we had to settle for a hill top with 360 degree views of snow and ice clad mountains in Mongolia, silky steppe, Himalayan Vultures cruising by, lakes with ruddy shelduck, flowers all around and the most wonderful scent of oils from the herbs of the mountain. After lunch I took over driving and as we had plenty of time I decided to demonstrate how to use the winch to recover a vehicle stuck in soft ground; that went very well...... When we had set up camp and had dinner, we sat round the fire sang jolly songs and told jokes - Gunter was without a doubt the winner here and all through the night, uncontrollable laughter could be herd from Volodya's tent as he remembered the tale about Timbuktu.....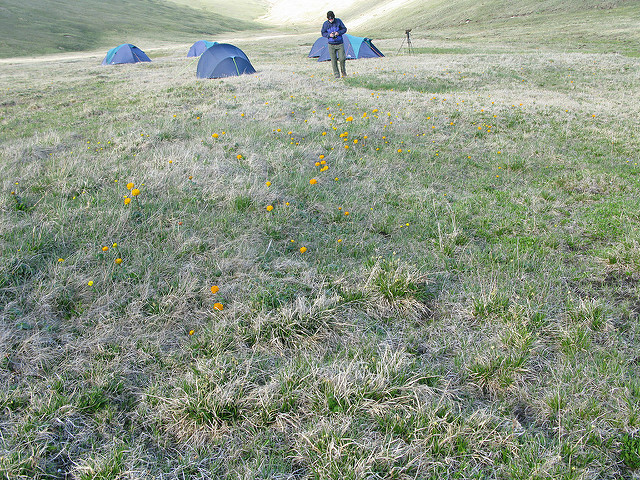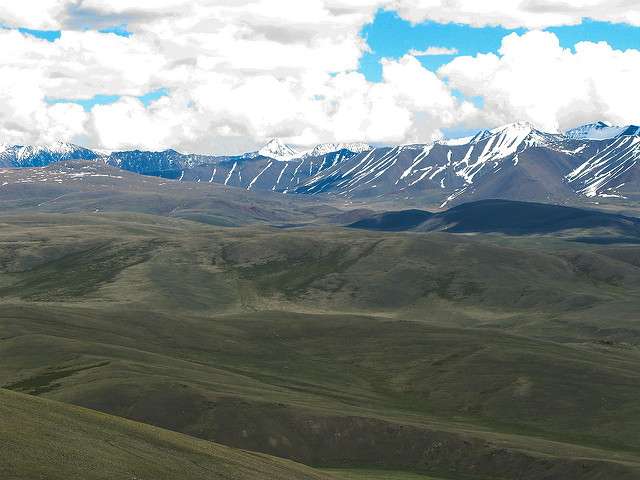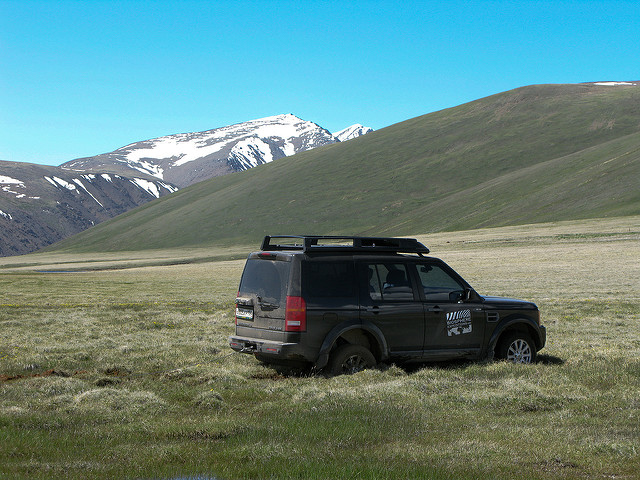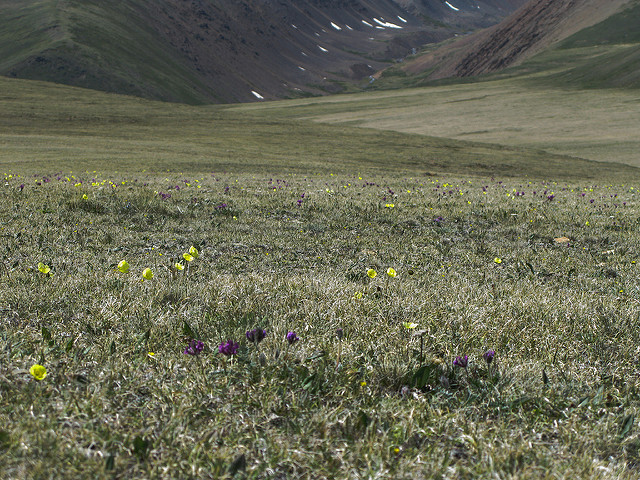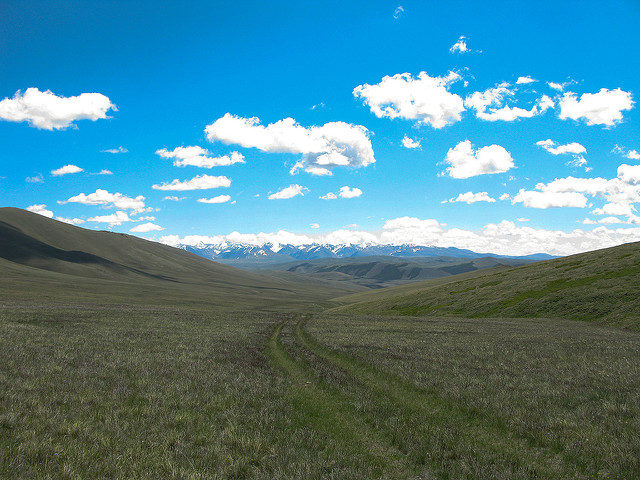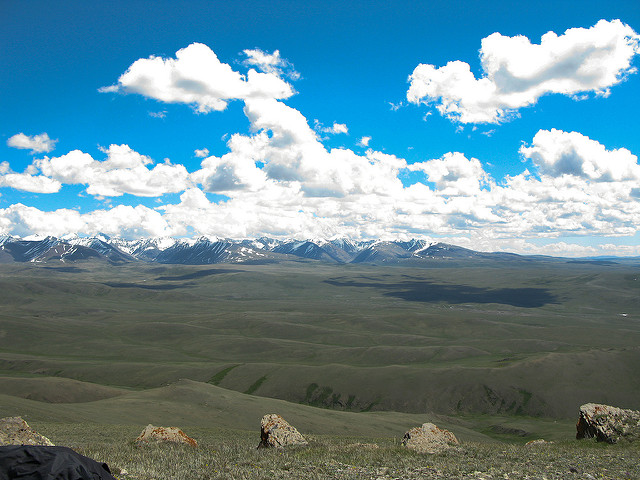 Saturday 4th July - Tapduair
A big day on a big mountain got off to a fantastic start when David, Toby, Isabella, Steve, Volodia and I saw three badgers; at 2700 m, this was an unusually high record, as well as being the first record for the expedition; wonderful animals. After scanning a cliff, I spotted a big stick nest with a small white fluffy thing in it. I scrambled up to it to find a young eagle chick; probably golden or possibly imperial, with all sorts of food remains such as ptarmigan, chough, grouse and ground squirrel: this was a restaurant with an amazing view! At the head of the valley that Isabela, Steve and I had climbed, Isabella spotted a Siberian ibex, silhouetted against the snow. After scouring the surrounding area, we counted over 50 ibex, the biggest group by far ever seen by the expedition and a fantastic find as ibex are the main prey of the snow leopard. Meantime, David, Toby and Volodia were doing just as well, with a sighting of 23 argali, again important for the snow leopard.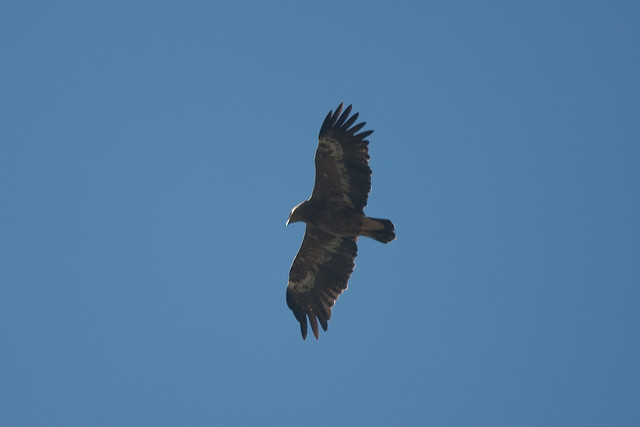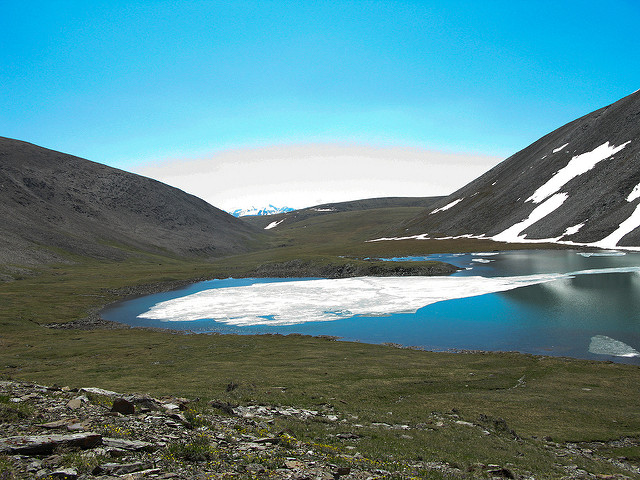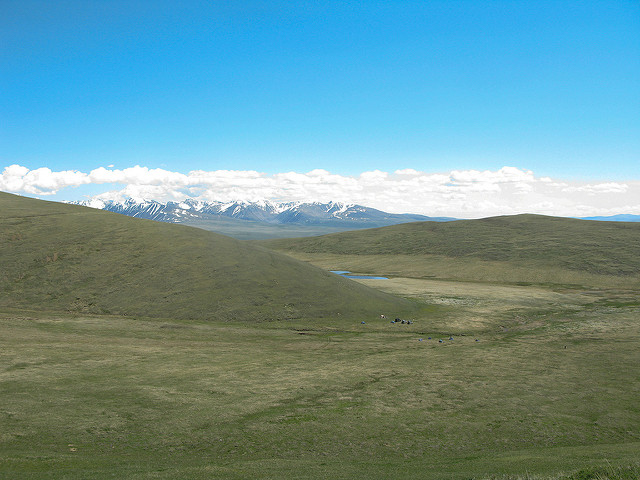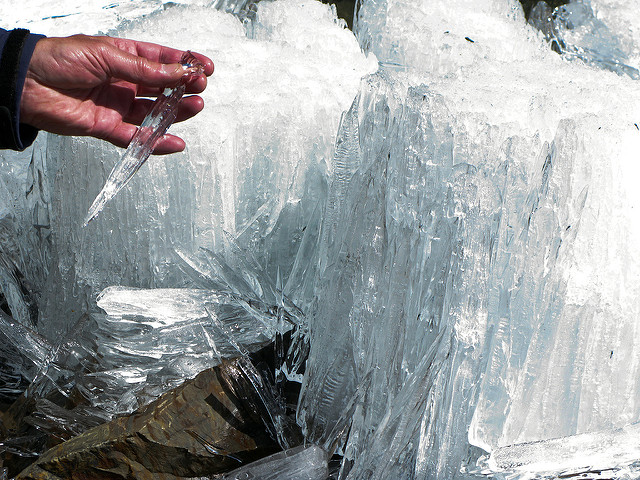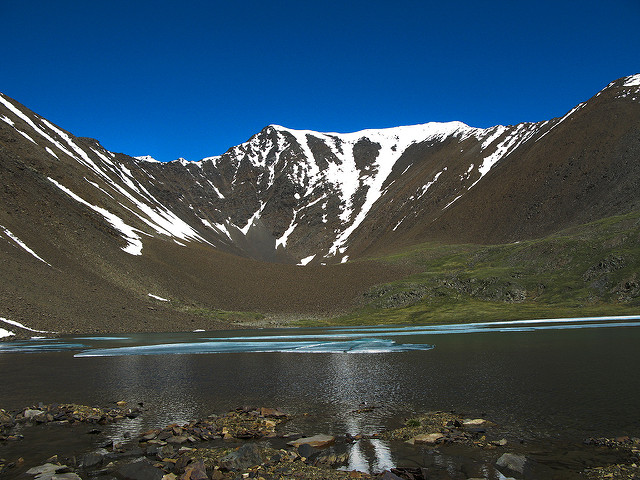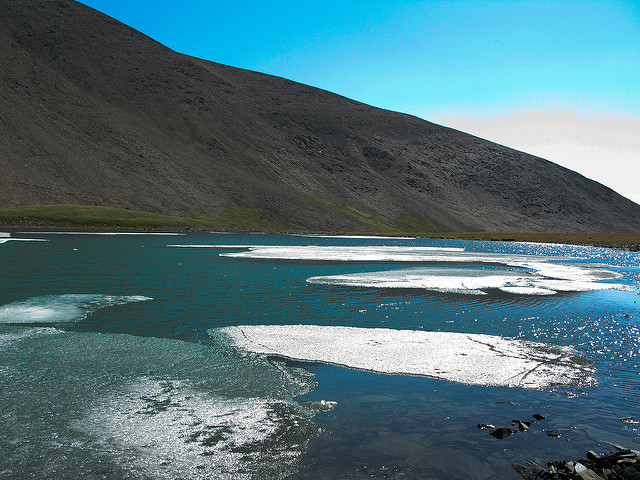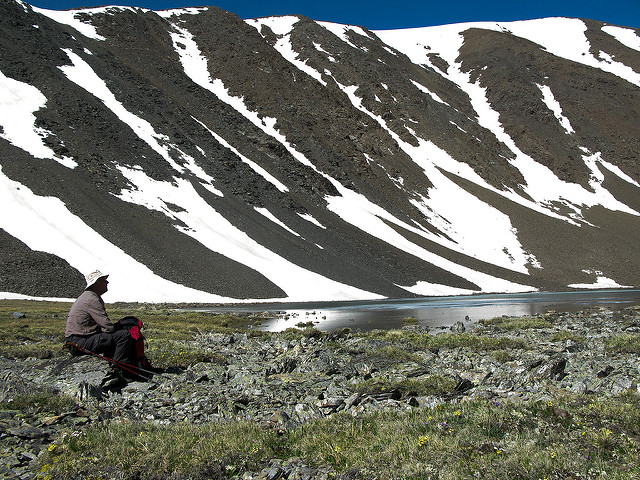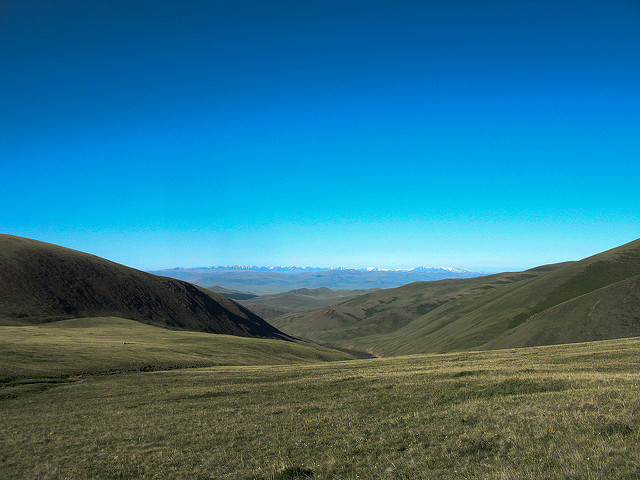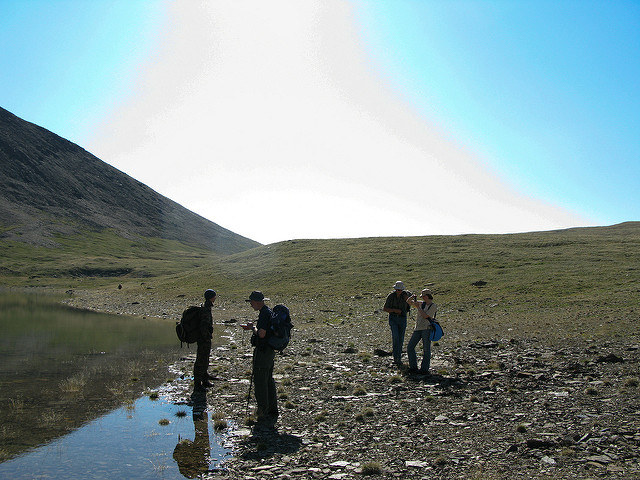 Sunday 5th July - Bird Lakes
After the exertions of Tapduair we had a more relaxed day today. After a long drive across the steppe and a crossing of the Bugazon river that focused our drivers' concentration, we arrived at a small lake. Being wet, there were lots of mosquitoes around so we doused ourselves in citronella before setting off. There were lots of beautiful birds, including citrene wagtails with pristine bright yellow heads and Demosielle cranes that were displaying to each other, jumping up into the air on their long elegant legs; wonderful. After the lake, three of us went to see a man about a horse, Marat is the man and we have hired horses from him before. Biosphere Expeditions has been approached by a man who wants to join the expedition next year. Having found out a bit about him and what he has done, he is clearly not disabled, though he does have only one leg; I discussed with Marat the possibility of providing a horse for him so he too can help with the expedition. Meanwhile, Patricia, Heike and Steve had a gallop around the steppe, with varying degrees of horsemanship......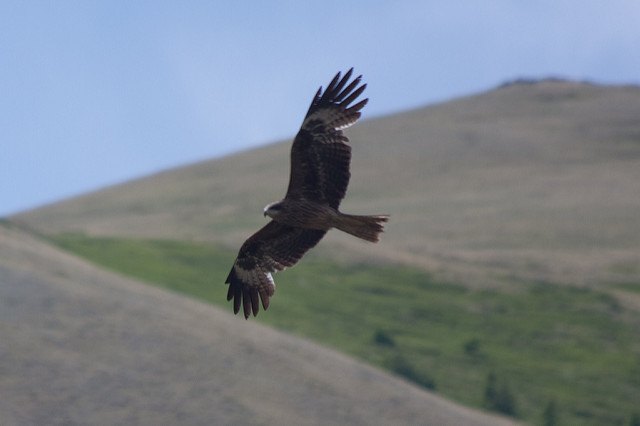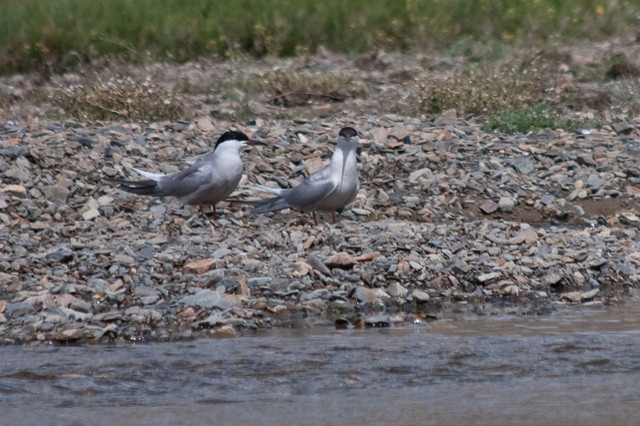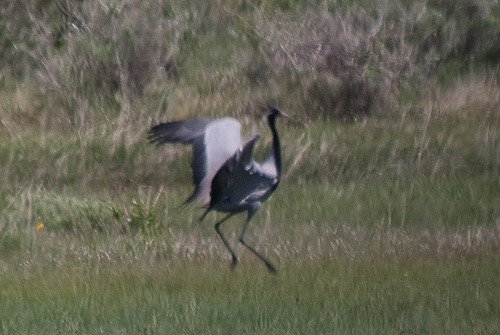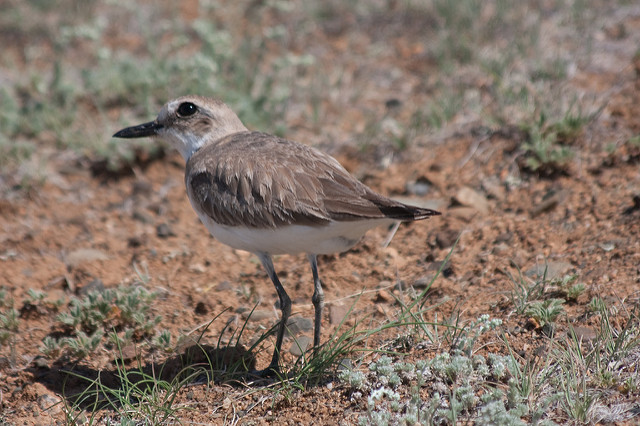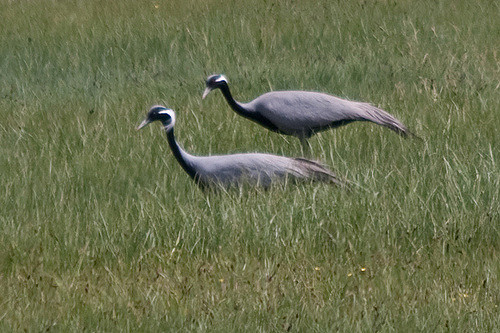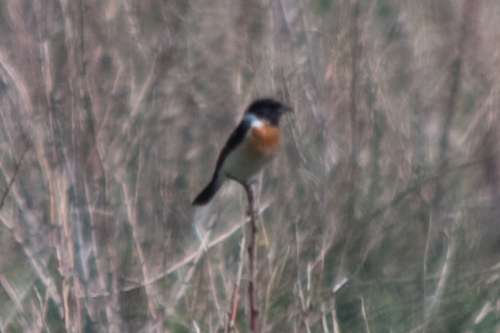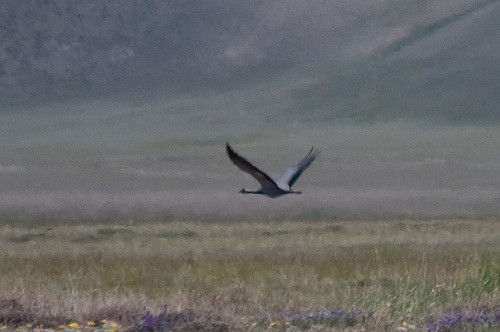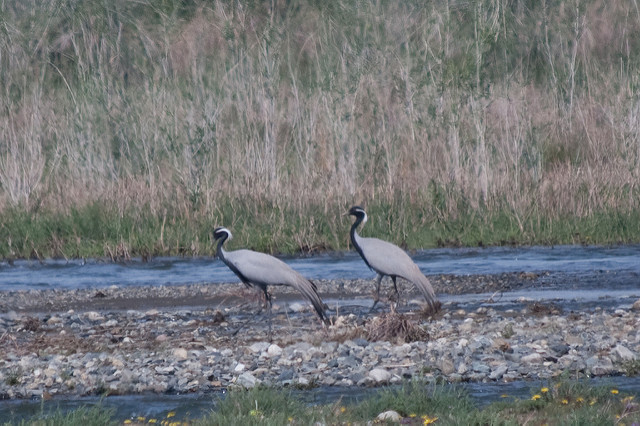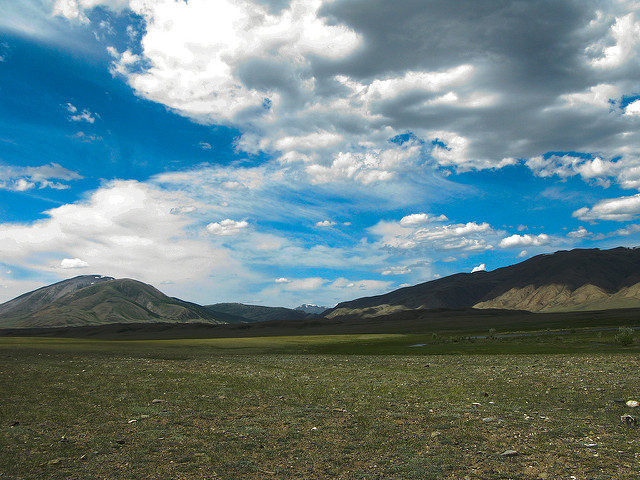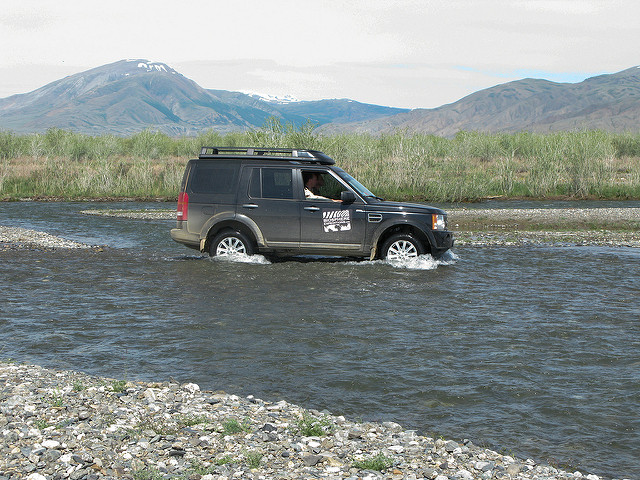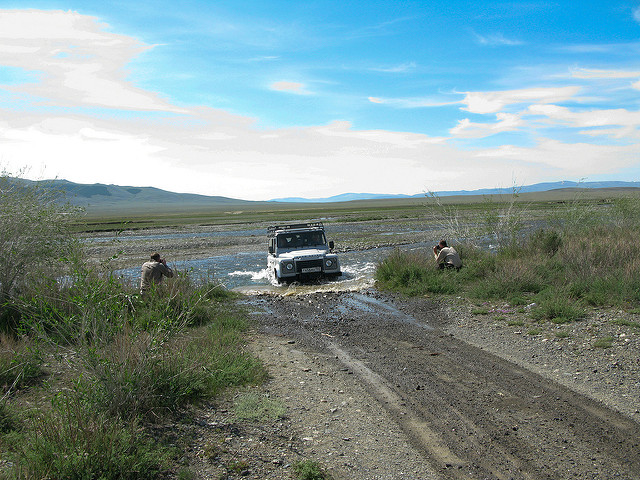 Monday 6th July - Sailugem and glacial lake
Today, Patricia, David and I headed up Sailugem mountain whilst everyone else surveyed a nearby valley and glacial lake. Our team started off in a beautiful larch and flower filled valley and almost straight away, we found fresh tracks, less than a day old, of an adult ibex that had come down the valley. We followed the tracks for about 1 km and then we found tracks of a young ibex along with those of the adult; but why was there no sign of the youngster further down the valley? We soon found the answer in a patch of soft mud; fresh tracks of wolf, the same age as the ibex tracks and it had been running. We followed the tracks of the three animals further up the valley, it looked like the chase had lasted for at least half a km. At the head of the valley, we climbed up a rocky ridge and then a scree slope, a steep scree slope, a steep loose scree slope, a long steep loose scree slope......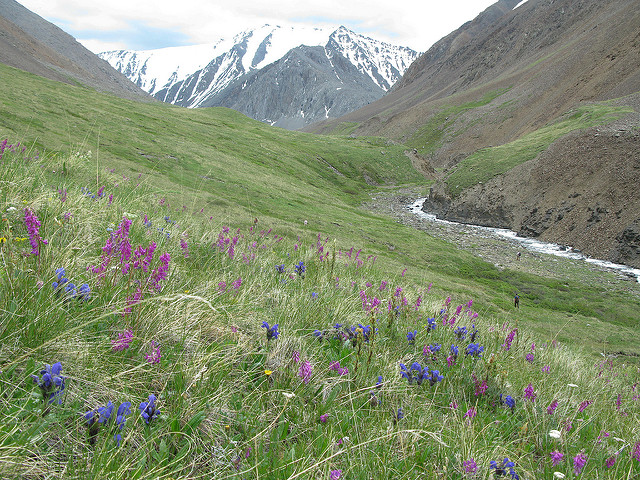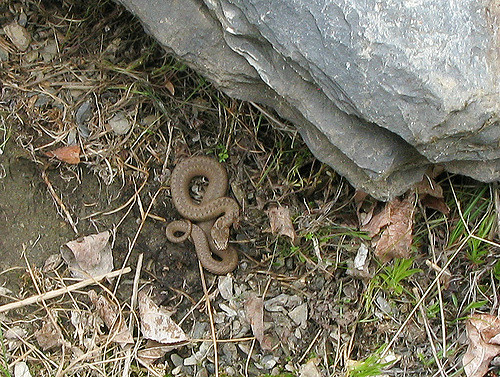 Tuesday 7th July - Travel to Kundictikul
Today, we made the long drive to Kundictikul by the Mongolian border. All our drivers did a fine job, negotiating rivers, boulder fields, steep slopes and soft ground. However, the only bridge on the way was too much of an obstacle with a gap of 4 m on the far side and a landing, a metre below onto boulders. We debated the merits of taking a good run at it to clear the boulders, Evil Knievel style, but we didn't have the spangly costumes, so decided against it and found somewhere else to ford the river instead. After a final tortuous bit of driving, we arrived at Naran Gol river and lake where we set up camp, under the Chicachova mountains that marked the Mongolian border and that would be our aim tomorrow.
Wednesday 8th July - Chicachova Mountains
Today we split up into three teams; with me were Patricia, Heike and Rob. We crossed the river by camp in the Discovery and then started our adventure for the day. Up one slope to a ridge, down the other side to a second river, a bit of acrobatics to cross and then we started on the mountain that was our objective. On the way up, we saw an Altai accentor, a rare bird only found in Altai, that was carrying grass to an almost complete nest. Leaving the scree slope, we scrambled up a rocky ridge - much less tiring and also more productive. We found fresh tracks of ibex as well as dust baths that Altai snowcock had used to clean themselves. Lunch was at the top of a cliff where we could look across the valley to see Toby, Peter, David and Volodia walking up the next ridge. The head of the valley below us was spectacular, with dramatic cliffs, a glacial lake and massive snow cornices. There were many ledges on the steep slopes and cliffs that would be favored by snow leopard; we spent much time methodically scanning them all with binoculars and telescope, but did not see the elusive mountain ghost. We walked as far as a saddle just under the snowy summit where animals are most likely to cross between valleys and hence leave sign of their passing and we found old resting depressions, probably from ibex, but, discretion being the better part of valor, we left the steep snowy summit for another day. On the way down we checked out an old nest, possibly of a vulture and looked for the nest of an Altai falcon we had seen earlier; we didn't find the nest, but we did surprise each other when we got within 3 m of the falcon before it flew off from the ground squirrel it was eating - wow!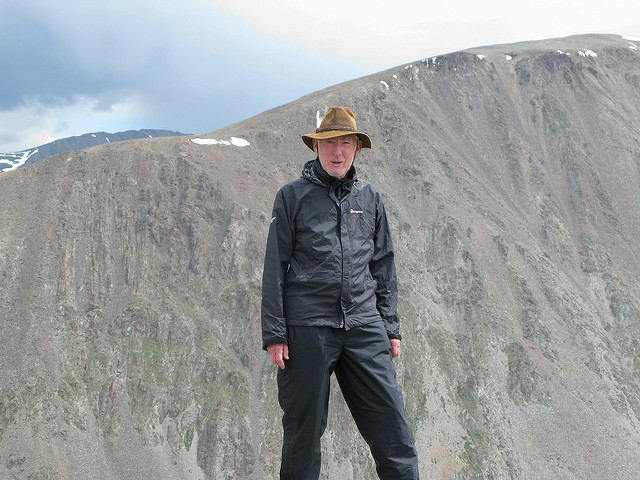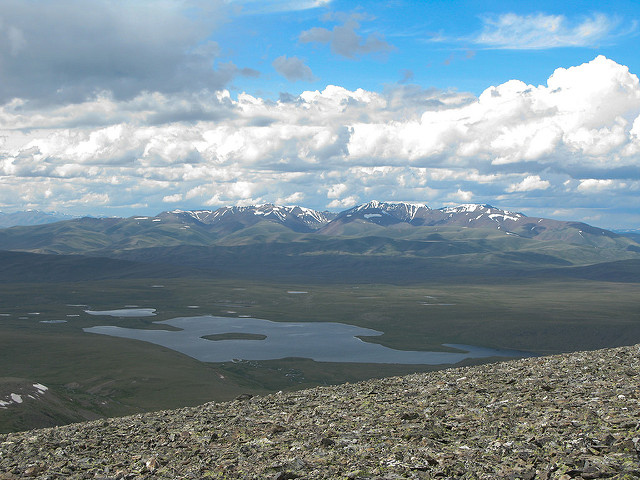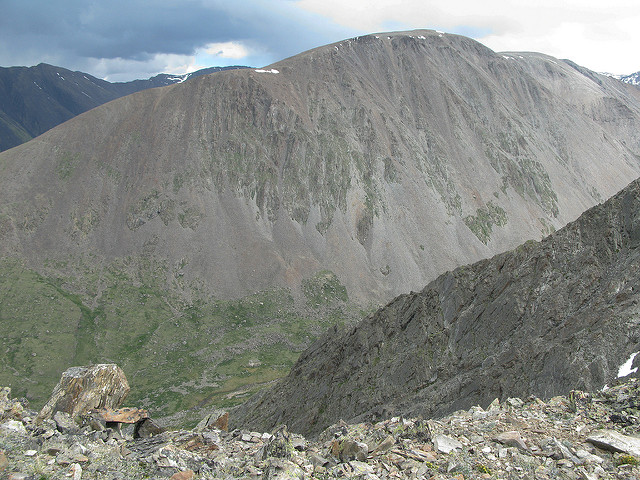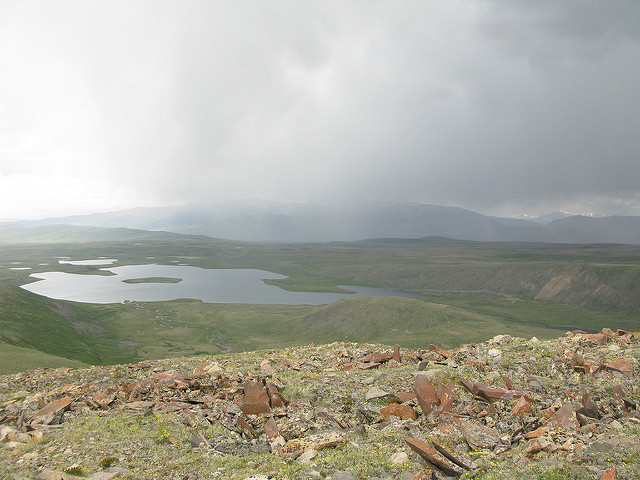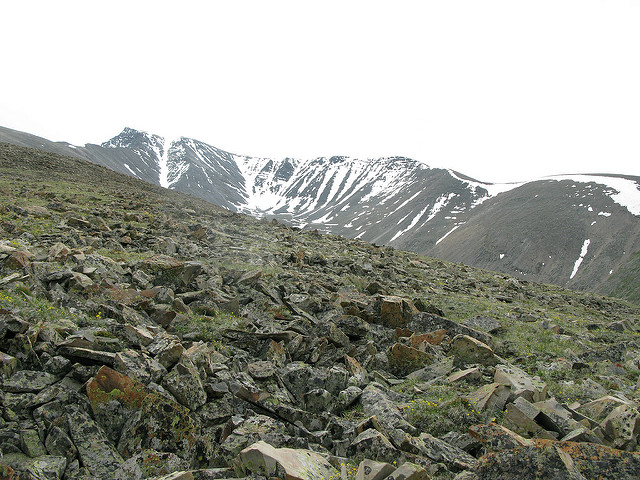 Thursday 9th July - Return to Base Camp
Our campfire from the night before was still smoldering as we had breakfast, we packed and then set off. We had driven all of 300 m when we were met by a team of five border guards in tactical formation, ready to stop us whether we wanted to stop or not, I decided we should stop. I gave them our papers, which they checked along with our passports and once they were satisfied all was in order, they were very friendly and wished us good luck. Now you all know why we are so insistent about you sending in your paperwork! On the way, we stopped at a couple of yurts to ask about snow leopard and other wildlife. Aidby was very friendly and helpful, telling us about a snow leopard he had seen, as well as an even more rare species, the Manul or Palla's Cat. We left the yurt full of tea, Kazak bread and rhubarb jam and with a bag of cheese created specially to break your teeth! Our route home took us through the valley of antiquities, so we stopped to see the burial tombs, standing stones, stone circles and a tree with a long-legged buzzard nest complete with two chicks - wonderful. A little further on, we stopped at a crag that had a Steppe Eagle nest with two chicks, then a crag with many petroglyphs and an Upland Buzzard nest with two chicks. We were all getting a bit overloaded with wonders by this point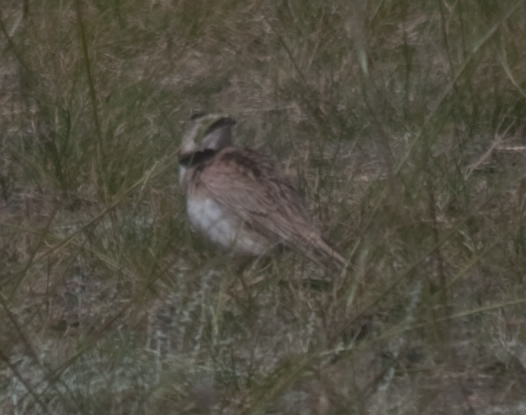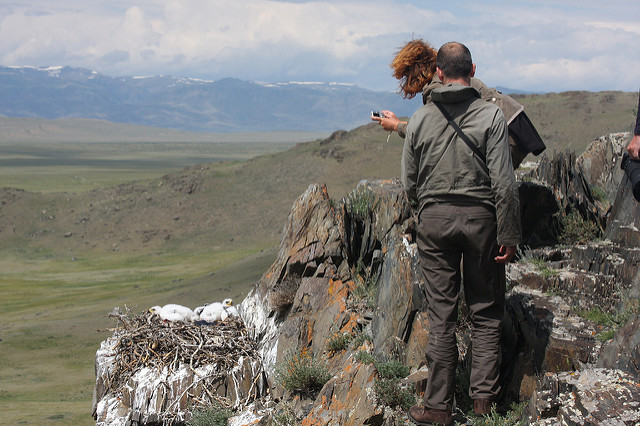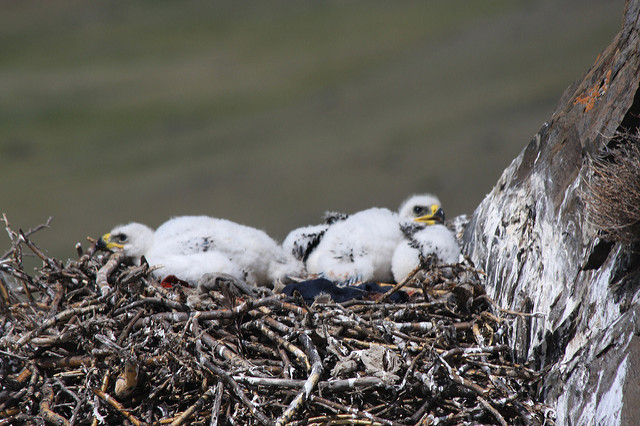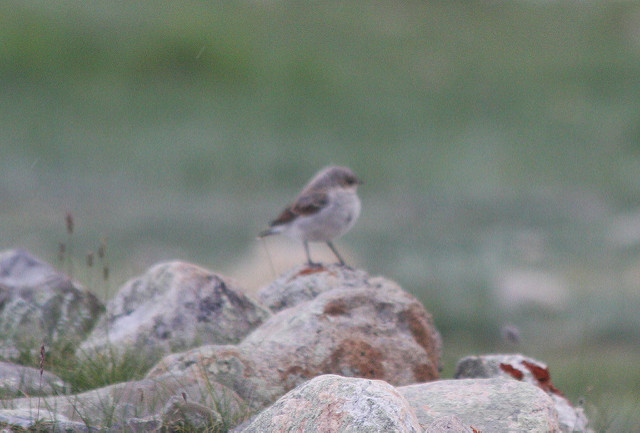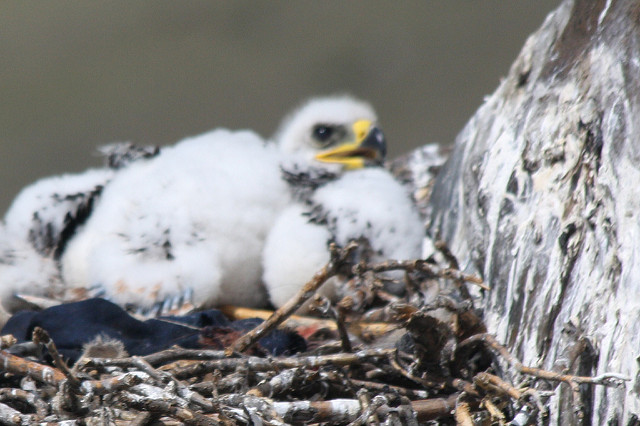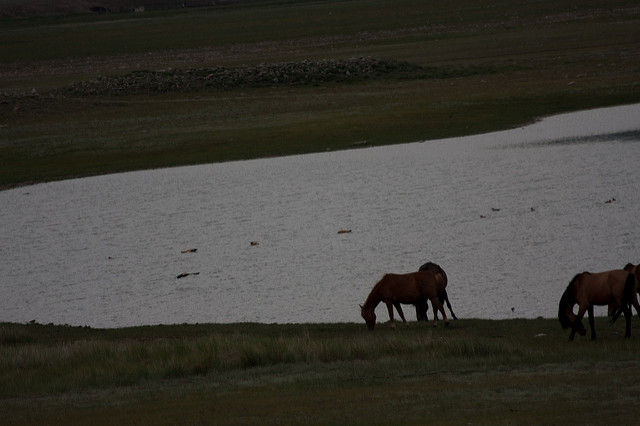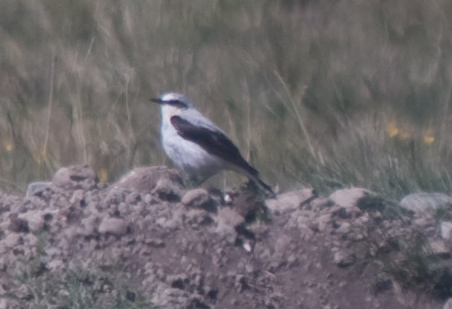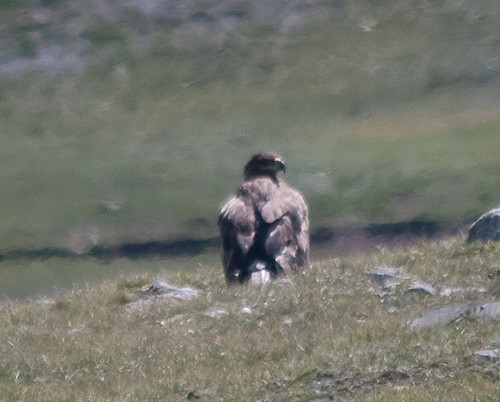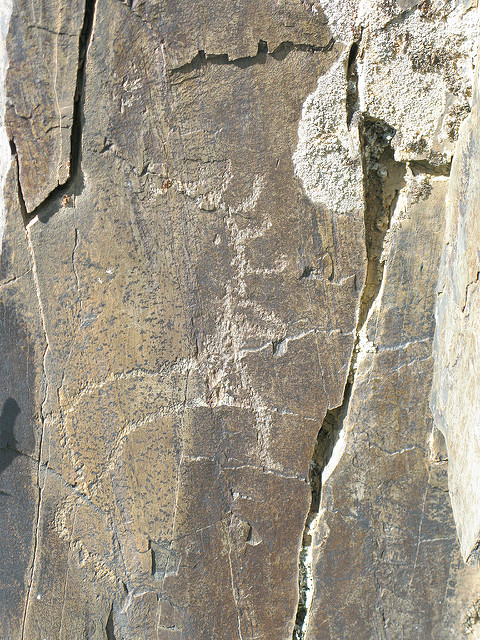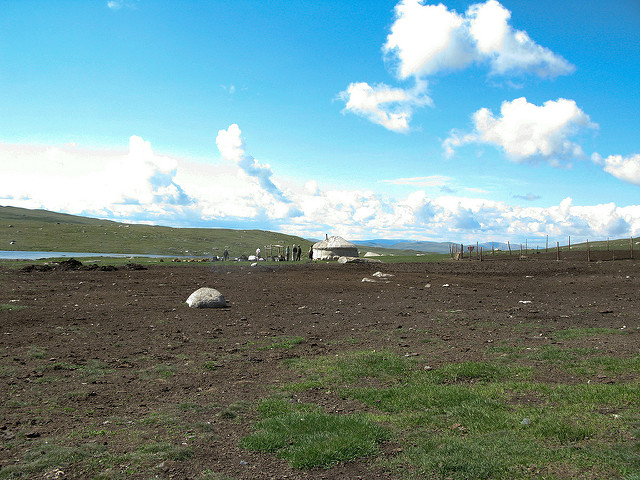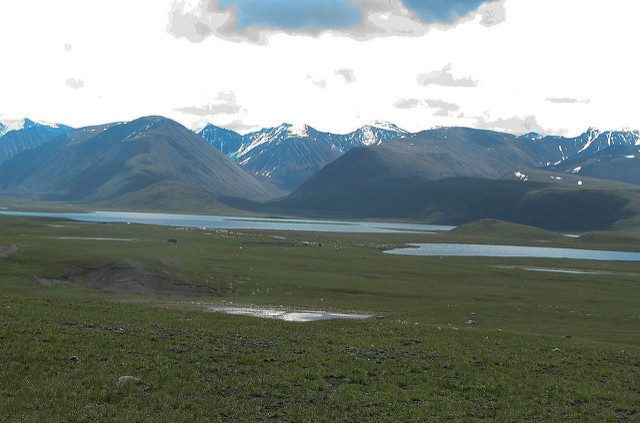 Friday 10th July to Tuesday 14th July
The days between 10 July and 14th July were spent in and around base camp while Slot one travelled home and Slot two arrived
Wednesday 15th July - Training Day for slot 2
After breakfast, we did the introductory talk and health and safety briefing. Next, Volodia did the science talk; snow leopards, survey methodology, how our data is used and how it fits into global snow leopard conservation. Navigation, use of maps, compass and GPS was next and after lunch, I did the off road driving course whilst Volodia took the non-drivers for a walk in the woods. Annie was the raptor pellet finding champion and Volodia was excited by the shrew jaw bones therein – ah well, it takes all sorts! For everyone else of a more normal disposition however, the highlight was seeing a fox cub playing in the sun – wonderful. Meanwhile, on the off road driving course, all was uneventful, which is just the way I like it. Everyone did well, negotiating steep slopes up and down, boulder fields and rivers with calm competence.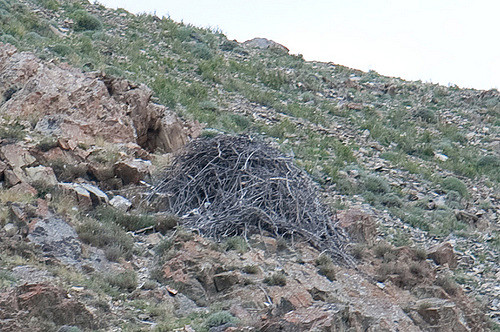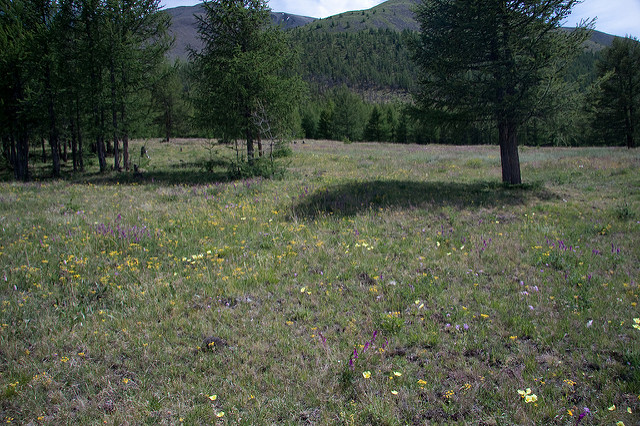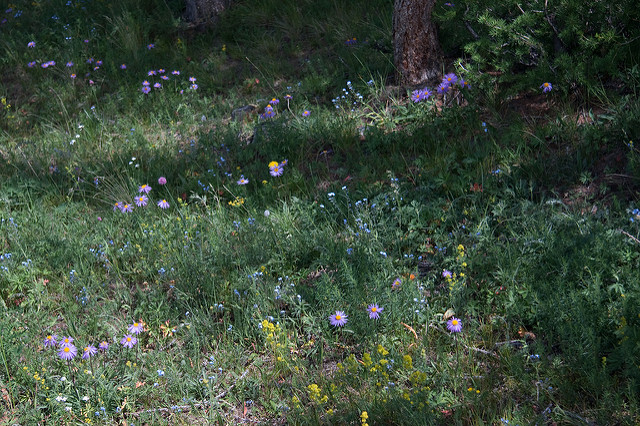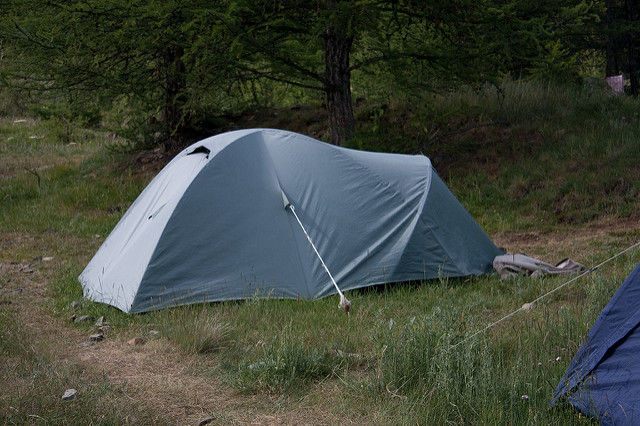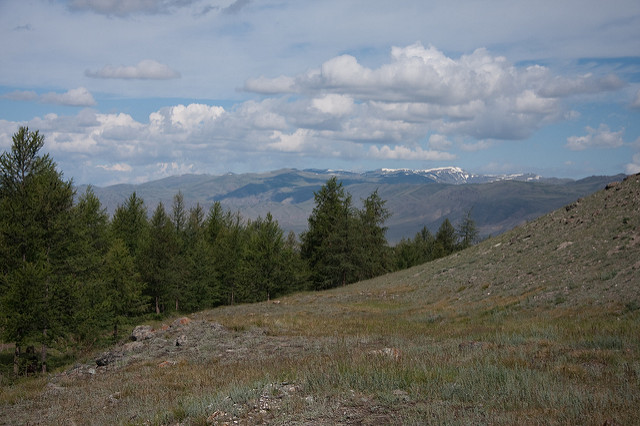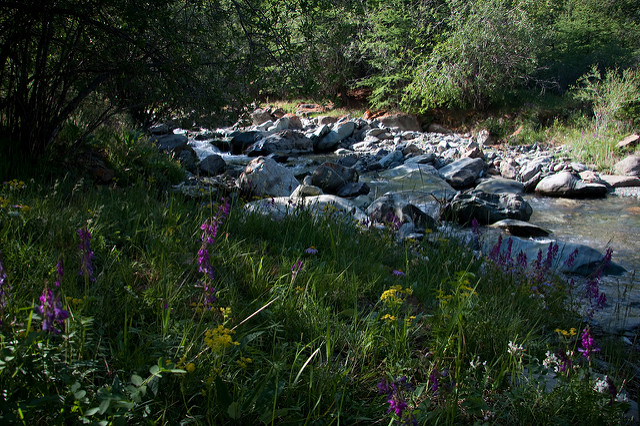 Thursday 16th July - First survey day Mount Chornie (Black Mountain) and the Bailukem Lakes
All our newly qualified off-road drivers did a fine job of negotiating the difficult conditions, the Bugazon river on the way being quite high and near the limits, but we crossed it competently. On arriving at Mt Chornie, we split into 2 groups, one, led by Volodia headed up the mountain, the other with me, headed round the mountain to a valley we had never surveyed before, that led to the border with the Tuvan Republic. All of 5 min after we left the mountaineers, the rain started, but being hardy mountain types, Volodia's team…..immediately abandoned their task and retreated to the comfort of the Land Rovers. Meantime, our group made our way up the valley, stopping every so often to scan the mountainside looking for animals. At the end of the `track` we stopped, had lunch and then headed up the valley. The crag to the northwest that marked the boundary with the next region in Altai was high and impressive. There were many ledges and some caves which we peered into hopefully with our binoculars, but we didn't see anything peering back at us. The valley floor was filled with many wild flowers and under what was now a deep blue sky, it was beautiful. We saw no signs that humans had been in the valley; no tracks, no domestic animals etc. but also, there were no signs of ibex or argali, a bit unusual. However, there is always something special to be seen, and the find of the day was made by Sonya who found a very rare viviparous lizard with a lovely orange stomach. The drive back along the valley was punctuated with frequent stops to take photos of the fields of wild flowers, in the early evening light and under the blue sky it was impossible to fail to make a stunning image.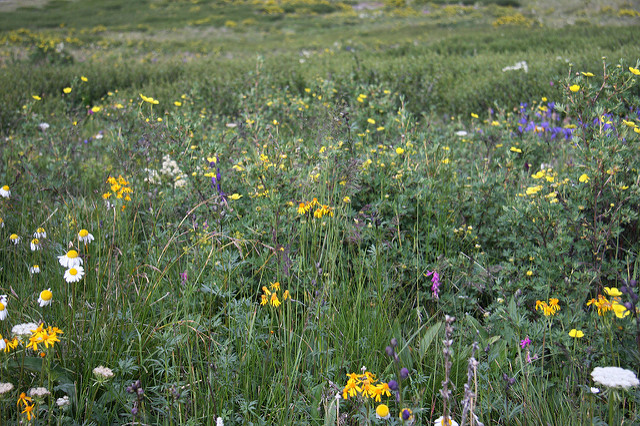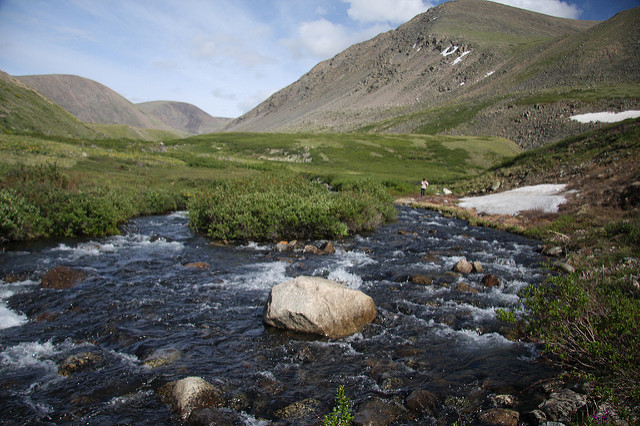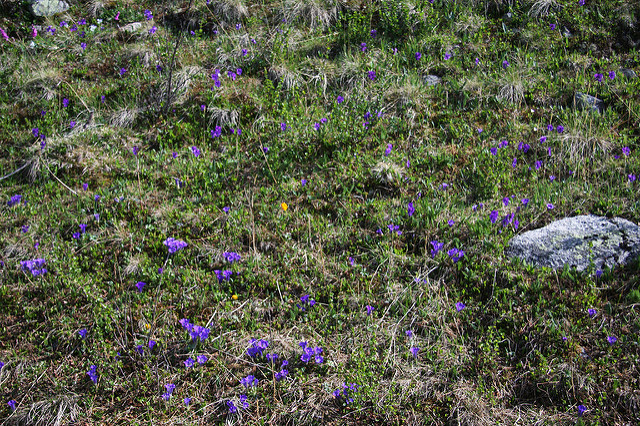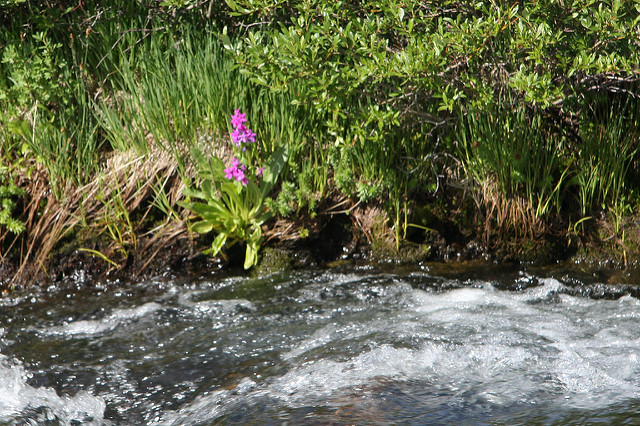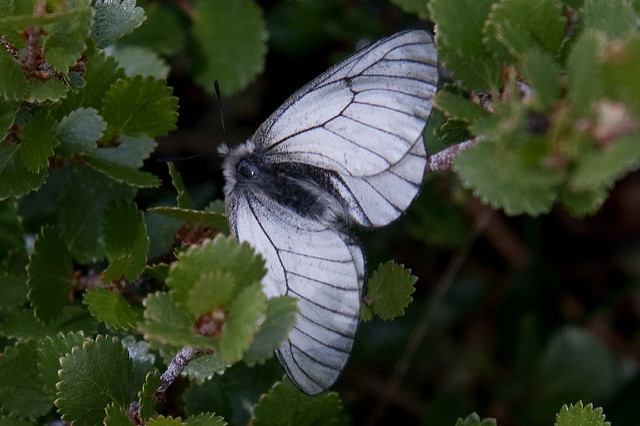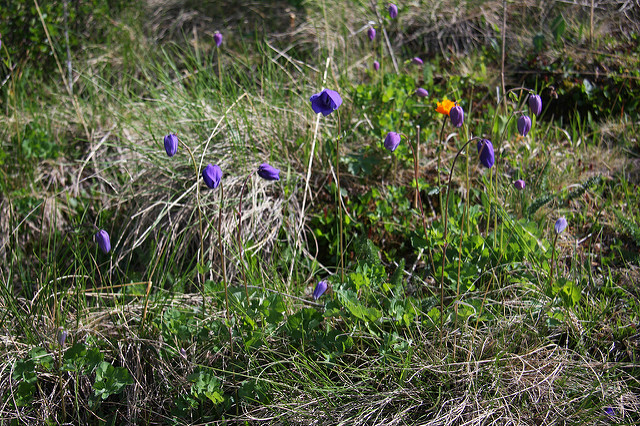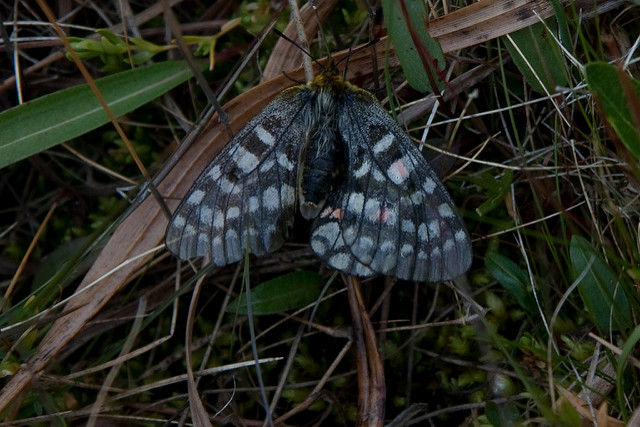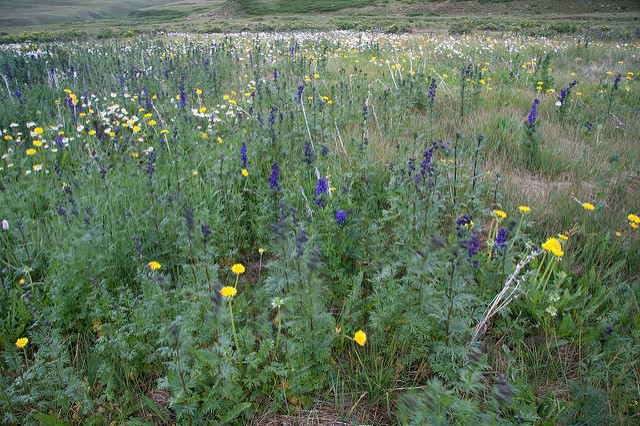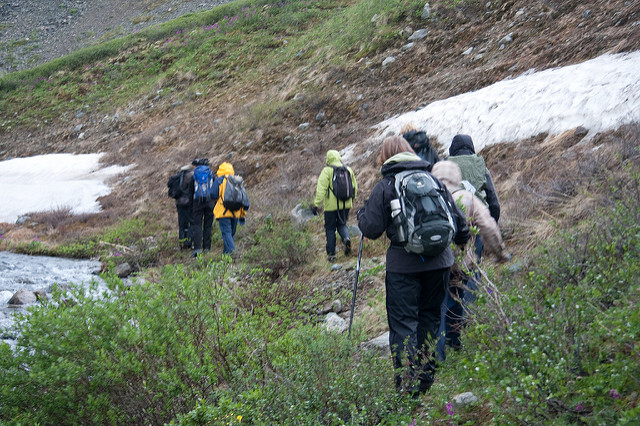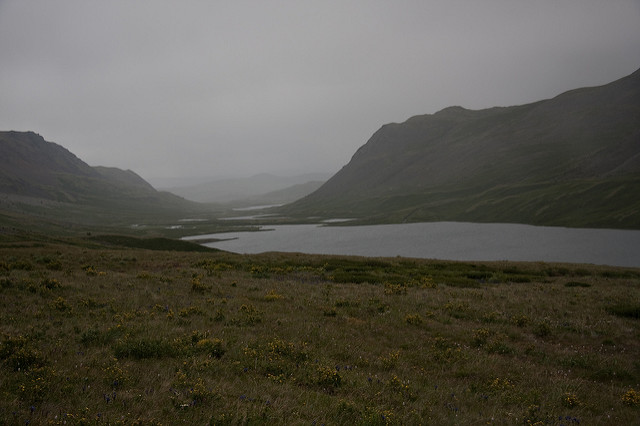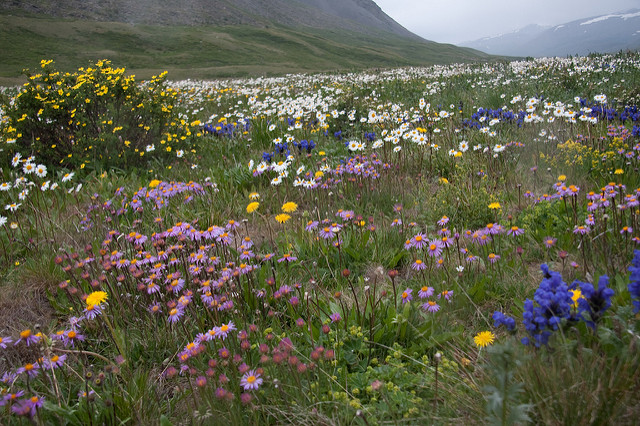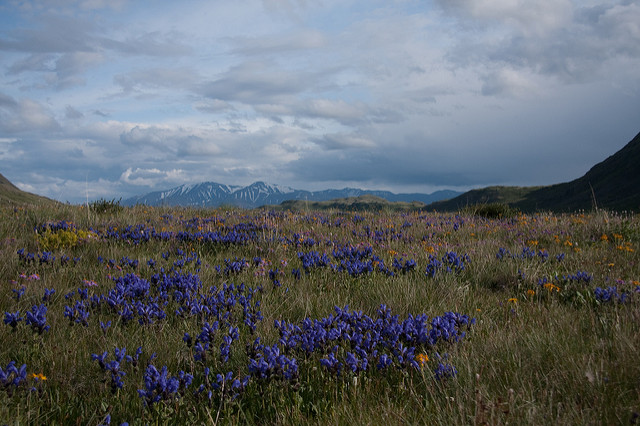 Friday 17th July - Start of horseback expedition and overnight trip.
Last year we tried to reach an area of mountains north of Kosh Agach as we had had reports of snow leopard from there and the area looked great on the map. Volodia's computer modeling exercise too, had also highlighted the area as a 'red zone' which is very favorable for snow leopard. I tried to drive there from the east, but the road was appalling and I could not get close. Next, I tried accessing the area from the west along a road marked on my map; when I got there, there were15 foot high trees growing on the track. The only practical way to access the area is by horse. I arranged the hire of horses from Marat, a local herder/hunter and along with him, Claire, Arkady (Marat's helper) and myself headed off for four days to make an initial survey of the area and to see if further surveys would be practical. We crossed the steppe, passed high red cliffs, went through a narrow rocky valley and into a flower filled valley with great swathes of edelweiss. At the top of a pass, Marat stopped and sprinkled the big rocky cairn with some fresh cow's milk for good luck on our journey. We passed small lakes with tufted ducks and Slavonian grebes in a wide green valley. A gentle descent in the next valley led us through the most beautiful woods I have ever seen. The trees were mostly Siberian larch, with a few pines, or cedar as they are known locally and they were quite widely spaced, leaving plenty of space and light for the most amazing woodland flowers. One area would be dominated with the blues of monk's hood and complimented with oranges of daisies, then the hue would subtly change to the blues of geranium, or of bluebells, but always, dazzling colour, delicacy and lush abundant life all around. For a long time, I have wanted to visit the world famous valley of flowers in India as it is supposed to be spectacular; now, I suspect it may be a bit of a let down for me. We passed through an area of burnt forest, perhaps the result of a lightning strike, before arriving at our camp site by the side of a river. This was the most perfect of camp sites in a lush little flower filled meadow, surrounded by larch, fairy tale perfect! Meanwhile, Volodia and the rest of the team set off for a 3 day expedition to the Tekelu river valley, driving up the river itself to get to a camp site.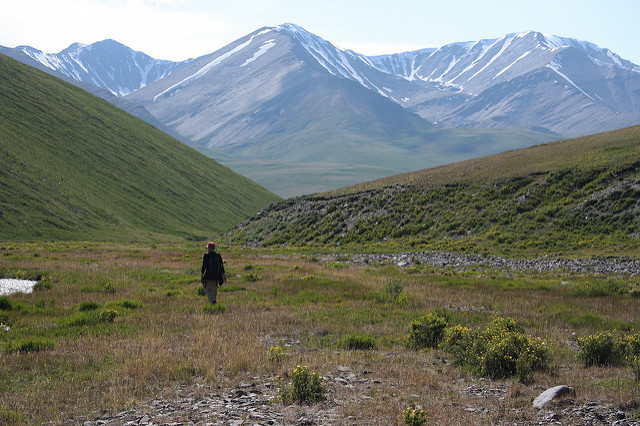 Saturday 19th July Into the heart of the mountains.
After breakfast, we packed, loaded up the horses and set off. Yesterday, we had crossed a few rivers that I thought were pretty exciting, but nothing compared with the river crossing that started our day as we left camp….. As we headed up the valley, the trees thinned then disappeared, leaving us in a wide green valley with massive sheer cliffs to the west that I scoured for eagle eyries, unsuccessfully, and to the east, small crags on top of a high ridge. A small side valley led up into the heart of the mountains and it was here we were to leave Marat and the horses and continue on foot. At the foot of the valley, there was a small wooden hut where two herders lived and tended their flock of 300 sheep and goats. Whilst talking to them, on the ground, I noticed the skeletal hand of a bear, shot by the herders in protecting their animals. Claire and I left Marat and Arkady talking and drinking tea with the herders and headed off uphill. A small stream gully was still filled with ice from the winter and had been sculpted into sinuous curves. There was a small glacial lake, then a second larger turquoise one. The head of the valley was split by a rocky ridge with rocky corries left and right; it was up the ridge that we made our ascent. On the way up I saw a clubmoss, not actually a moss, but a primitive non-flowering plant; this was the first clubmoss I remember seeing in Altai and looked very similar to a species I know from Scotland, though it did have subtle differences. After a long slog up the rocks, we reached the summit plateau at 3333 m. The blue skies of the morning had gone and the clouds all around created spectacular lighting for the views out over the Kosh Agach steppe to the south west and the mountains and valleys all around. We started our descent down the other side of the mountain to our rendezvous with Marat down a narrow rocky ridge. We had barely set off when the weather suddenly changed and it started to hail, heavily. Only a few minutes later, we found tracks in the snow, unlike any I had seen before. I quickly took some photos before they filled with the hail; you could clearly see the paw prints, the length of the legs and the marks of the body, this was the trail of a manul or Pallas' cat, even more rare than the snow leopard and a fantastic find for the expedition. By now the weather had deteriorated even more, thunder and lightning had started. I could hear buzzing and my eyelashes were standing on end, a clear sign of serious electrical activity, this was no longer a safe place to be; we now hold the Altaian speed record for getting off a ridge. On the way down, the hail piled up, covering the ground, except for clumps of yellow flowers showing through, an unusual and beautiful sight. We arrived at 'ozyera adin' or the first lake to find Marat and Arkady sheltering in their tent, whilst a white-winged scoter, a bird not previously recorded by the expedition, flew past. Meanwhile, in the Tekelu river valley, the rest of the team split into two survey teams, one headed up high onto a mountain whilst the other surveyed a mountain valley. The mountain group had a hard day, leaving at nine in the morning and only getting back at six, having endured rain and snow. Down in the valley, Thorsten in the other group made the find of the expedition; argali tracks with those of a snow leopard following behind! It has been a long time since we have found sign of snow leopard, so it was excellent to get this data.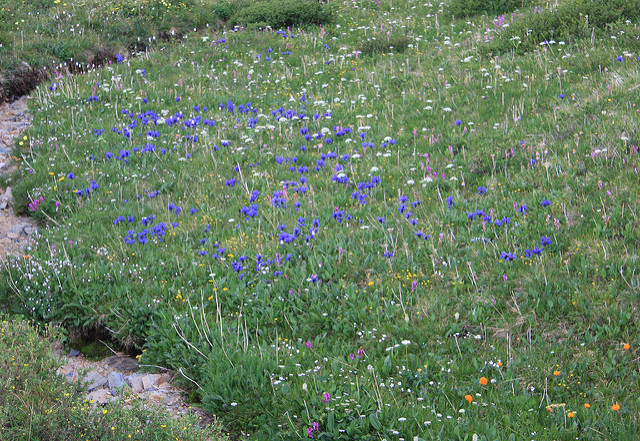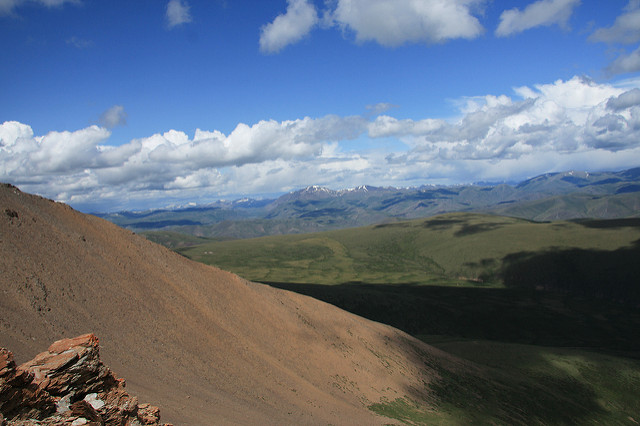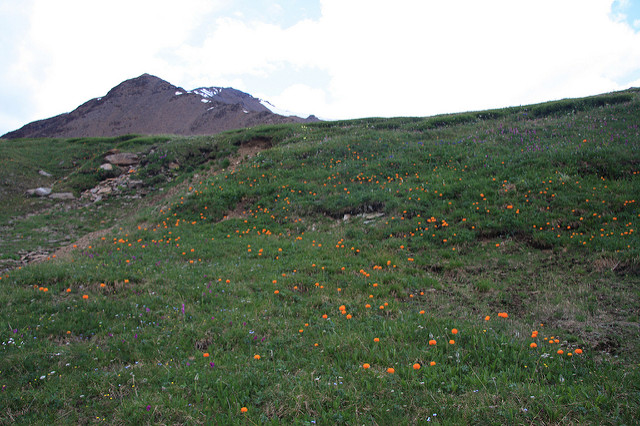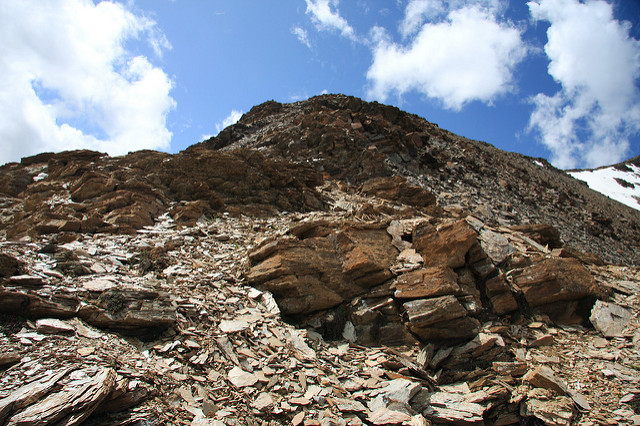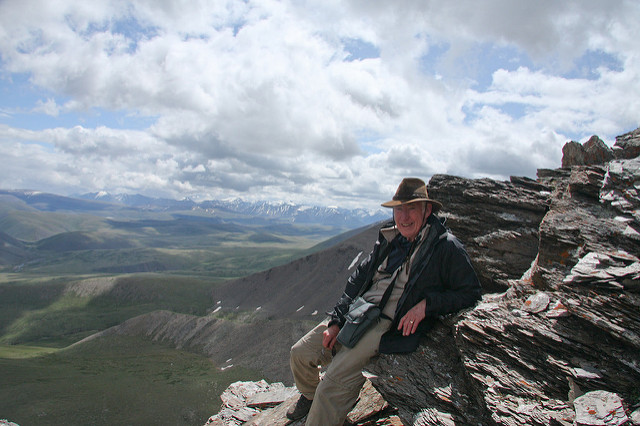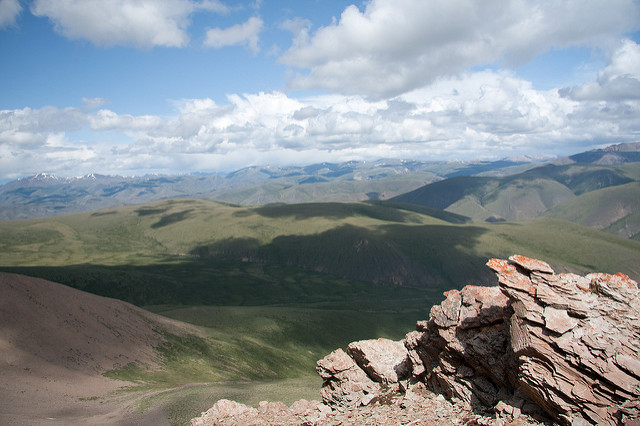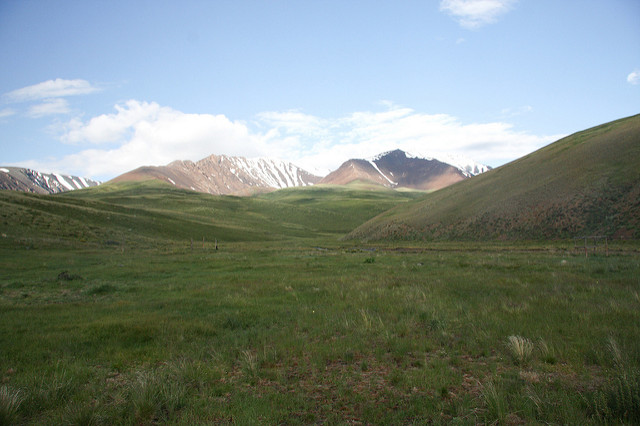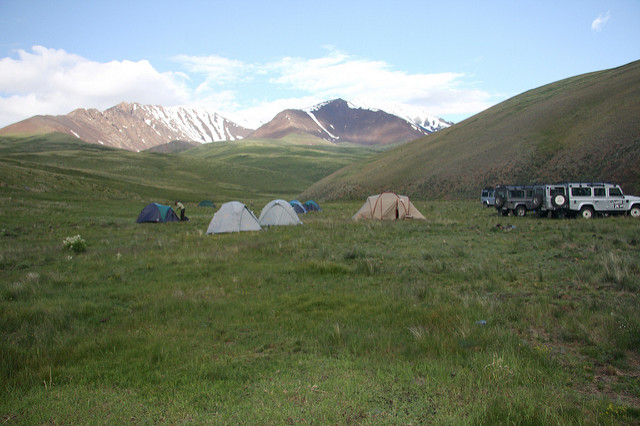 Sunday 20th July - Glacial lakes
We had camped by the first lake in our valley, however there were four glacial lakes further up the valley; it was these we went to survey this day. The first glacial lake was interesting; where the water flowed into the lake, there was a rock field, but all the rocks were orientated to have their flat sides up and all at the same level, the result was an amazingly smooth flat surface that you could have driven an ordinary saloon car over, very strange. Around this area, the birds were wonderful, we saw a spectacularly red and pink rosefinch, new for the expedition, a white winged redstart and lots of Altai accentors – endemic to the area. The next lake was bounded on one side by a steep scree slope that disappeared straight into the depths of the lake – didn't look good for crossing at all and on the other side, by a steep slope, again plunging into the lake, but negotiated easily with a little scrambling. Glacial lake number three was up a hanging valley, so we passed it by, but on the way to the last lake, we started to find fresh sign of Siberian ibex and argali, both primary prey species of the snow leopard, as well as older sign in the form of two old ibex skulls. The final lake was as beautiful as the others and beyond, massive cliffs, at least 2000 feet high, was a very abrupt and spectacular end to the valley. Whilst we had been surveying the glacial lakes, Marat had taken the horses further down the valley to where there was food for the horses, so we made our way there to join him. At the side of the river on the way, we made another great find, more Manul sign, this time faeces. Marat and our horses were at the other side of the river, so Arkady took a horse across to ferry us to the other side. Claire was first across, this was a good thing as when Arkady returned, we saw a viper at the water's edge which would have provoked a major incident had Claire been anywhere near it :) Meanwhile, the rest of the team were having a day off work, starting with a long lie-in as it was pouring with rain. After a while the rain stopped, the sun came out and the team made their way back to base camp. In the afternoon, the team made a trip to some nearby petroglyphs and saw an upland buzzard nesting there with one big fat brown chick.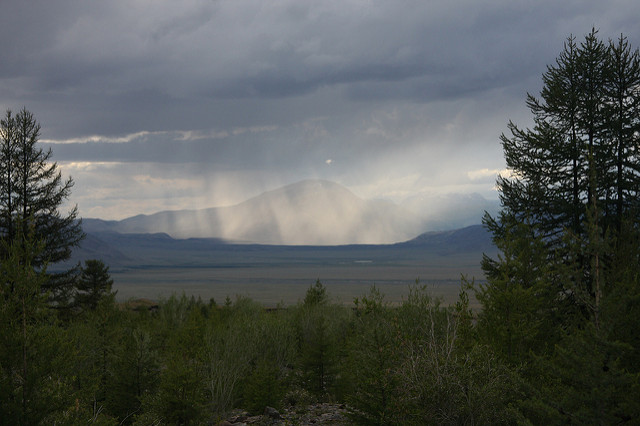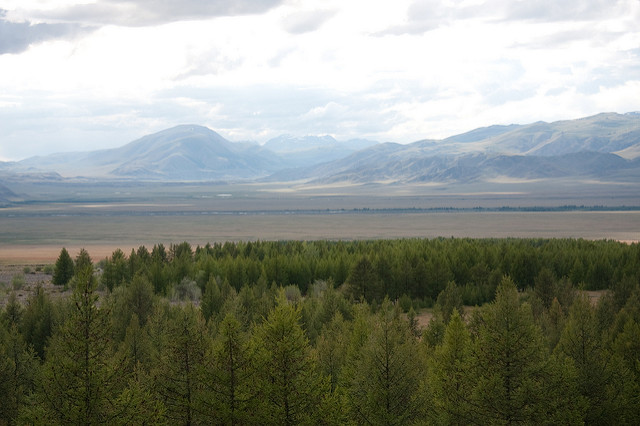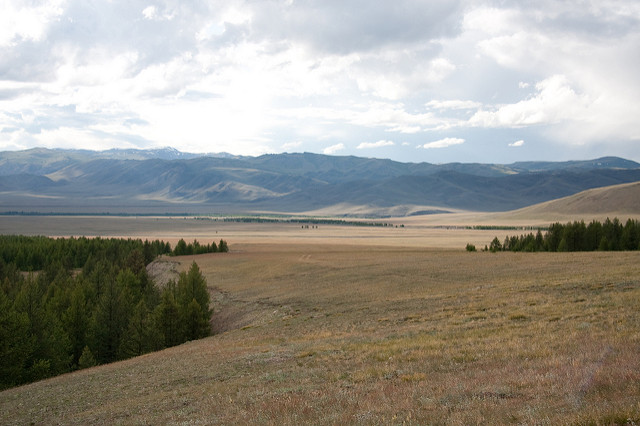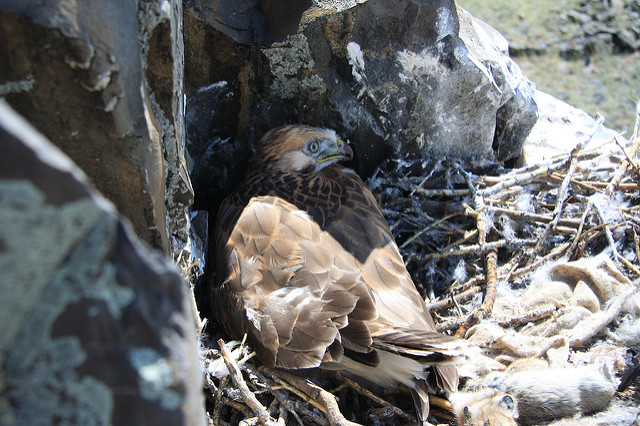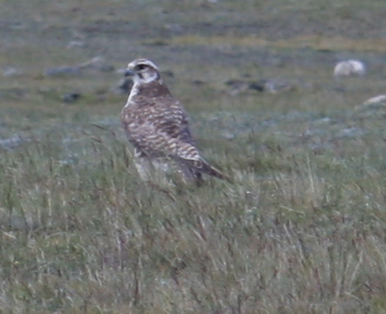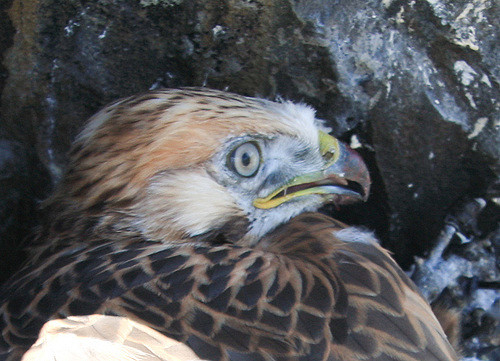 Monday 21st July - Return to base camp
We awoke to a misty wet morning. After breakfast, we crossed the river and headed down the valley through very spongy ground that the horses' hooves disappeared into with every step. We crossed the river near a small abandoned hut - that was interesting, deep water, big boulders, I was glad that was behind us. We traversed a meadow on the hillside, completely covered with yellow flowers, before descending to, yes, cross the river again. Marat checked all the horses and tightened their straps, not a good sign, then he got on his horse and headed for the river, and stopped. 'Nyet' he said, too much water. I was not about to disagree with the judgment of an expert, however, I did look for alternatives that might be acceptable to him. How about going back to the previous crossing and travelling down the other side of the river, 'nyet' the ground was far too soft and hazardous for the horses. I walked upstream and found somewhere that looked better that the other crossing. 'Maybe' said Marat, so I looked downstream for another option. I found a crossing that looked perfectly fine to me and on returning with Marat, he agreed, the only problem was how to get the horses to it! There were some fallen trees blocking the way as well as thick stands of willow, but after a bit of exercise with Marat's axe, we were there and then easily across the river. Another river lay across our track, but this was easily crossed too. Next, we made our way up a steep slope and from behind I heard a commotion, looking round I saw Claire on the ground – a small but clearly vital piece of tack had broken, dumping saddle, panniers and Claire onto the hillside. Fortunately, no damage was done. The rain stopped, so we did too, making a fire for tea. I wrung out the water from my clothes and then dried them by the fire along with my toes; that felt good! The break from riding was great, but starting again was not so great! When we started to get near Marat's home, the horses realised where they were heading and quickened their already brisk pace; very fit horses! At Marat's Isle, his home, we had more tea accompanied by bread and fresh cream – that tasted soooo good. The drive back to base camp was interesting as ever, especially when we saw a Demoiselle crane doing a broken wing distraction display, trying to lure us away from its chicks: wonderful, I've never seen that before. Meanwhile, the rest of the team had been surveying a valley near base camp in heavy rain and were rewarded with a sighting of a maral deer; although we do sometimes find sign of these deer, sightings are extremely rare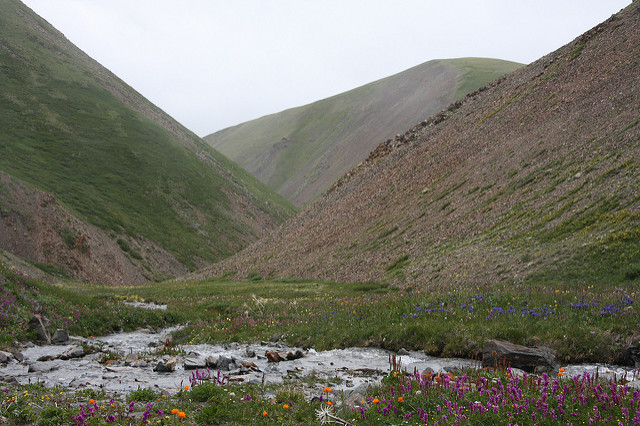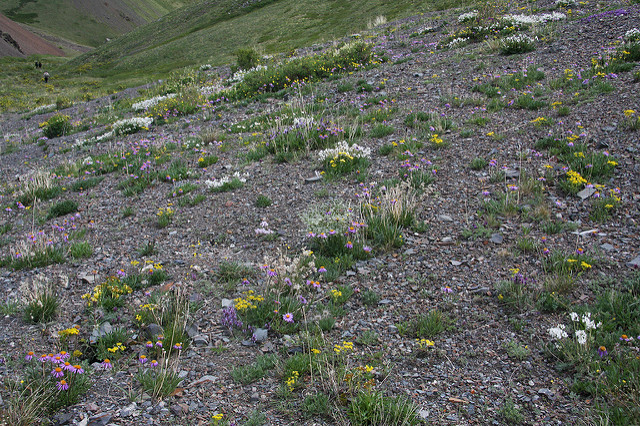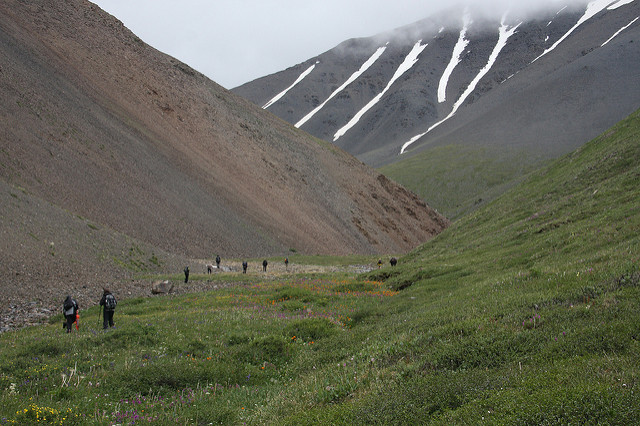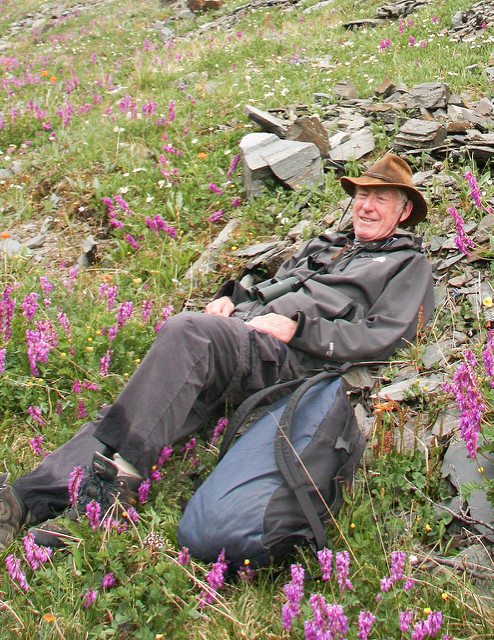 Tuesday 22nd July - Base camp to Sailugem National Park (proposed!)
After breakfast we loaded up the Land Rovers with tents and food and headed off for the proposed Sailugem National Park. Passing through Kosh Agach, Annie was amazed at the high fashion on display on the dusty streets of this harsh frontier town: high heeled stilettos, stockings and exposed mid-riffs mixing with rusty old Russian army lorries, log cabin houses and dirt roads. After crossing the Kosh Agach steppe, we got to the Jezator checkpoint where our papers and passports were checked, this took a bit longer than normal as we had arrived at lunch time….. When underway again, we drove along a valley on the main road to Kazakhstan before heading east up a valley into the proposed Sailugem National Park. Though there was a track marked on the map, it was difficult to even see it on the ground. The way was rough, bumpy and at times boggy, but with Dorothy, Sonya and Thorsten driving we made good progress. Near the highest point of the valley and about 8 km from the Mongolian border, we set up camp. Woods marked on the map were either a cartographer's dream or the victim of a lumberjack's axe, but the views were fantastic with dramatic cliffs and snow fringed ridges to the west, rolling hills to the east and tantalizing Mongolia to the south; in the warm evening light they looked fantastic. After dinner we had a fantastic camp fire that warmed parts that even the Nescafe, condensed milk and vodka cocktails could not reach, and listened to what sounded like a cat calling (manul?) from a nearby gully.
Wednesday 23rd July - Sailugem National Park survey.
We split into three survey teams, Sonya, Simon, Herwig, Joerg and I headed off west for an enormous walk up a 3400 m peak and horseshoe, whilst Barbara, Claire, Sonya, Thorsten and Rob surveyed a valley and Volodia headed for Mount Chornia (black mountain) with Dorothy, Annie, Martin and Marina. As my team climbed, we saw lots of sign of domestic animals, but mixed in were a few fresh tracks, only about a day old, of what looked like ibex. Then it started raining. It looked like it would be a passing shower, so we continued in the mist with our work; it was not a passing shower, however… We continued uphill, finding sign of ibex, but after about half an hour of horizontal rain and then hail, the novelty of it wore off and I decided we should head back, but taking a slightly different route to cover some new ground on the way. As we walked, we started to find resting depressions, usually difficult to attribute to a particular species, but these depressions had ibex faeces in them. Then Sonya suddenly pointed to something in front of us, further along the top of the cliff. We all looked round to see 11 ibex appear from the cliff face up onto the cliff-top. As soon as they appeared, they took flight and ran off down hill and away. We were all delighted at seeing the ibex so close, about 200 m away. Then more ibex appeared, 28 of them, including eight young; these too ran off downhill. We couldn't believe our luck. Then, an adult and two young appeared, I asked everyone to stay perfectly still as the three ibex started walking along the cliff directly towards us! They got closer and closer till when they were about 80 m away they disappeared from sight behind a fold in the ground. I got everyone to sit down, and then again stay perfectly still. The ibex did not appear. We stayed there motionless for what seemed like ages, had they fled, had they stopped? Then they re-appeared about 50 m from us, the adult stopped and looked directly at us, but we all stayed perfectly still and eventually it continued its track towards us. At about 30 m from us, the three ibex headed off down the cliff, still unaware of or presence - a fantastic experience and great data for the expedition. Back at camp, the other teams had returned too, so we dried off and had lunch. Later, when the weather improved and the sun came out; Volodia and Herwig investigated the gully from where we had heard cat-like calling the night before, while Rob, Simon, Sergii, Annie, Claire, Martin and I drove to some lakes to see what birds they held – tufted duck, Slavonian grebe, whooper swan and pintail.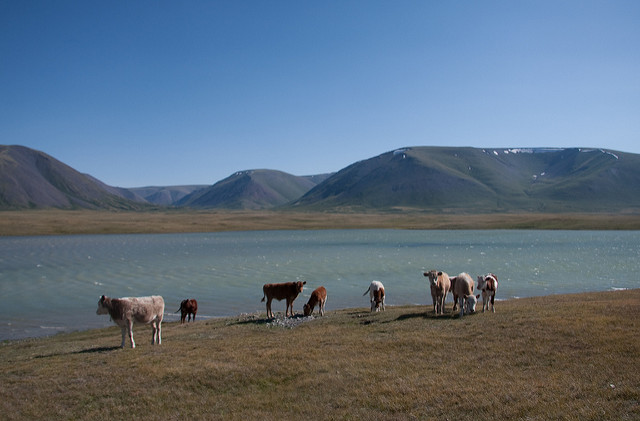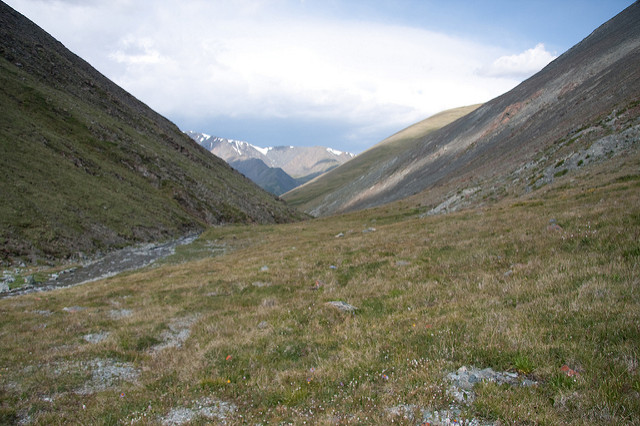 Thursday 24th July - Return to base camp
Sonya, Herwig and I drove the Land Rovers out of the valley, negotiating the boggy ground, Sonya doing a great job of finding the best way. We stopped at an isle (wooden hut) and had a chat with Misha, a herder. isha was very friendly and chatted openly, telling us of the big herds of ibex and argali in the local area. Whilst he had not seen snow leopard, which he confirmed to be a holy animal, the man who tended the goats and sheep with him had, twice, on the mountain where we had seen ibex the day before. Misha gave us kefir - fermented cows milk and cheese - as we talked about changes in land ownership in Russia, school for his children and what it was like to live in the beautiful mountains with their chill winds. Just before we re-joined the Kazakhstan / Altai international highway (!) we stopped at some Kurgin, burial tombs, and their standing stones. Further on, we stopped for lunch, just as we got onto the steppe, by some massive boulders that had some petroglyphs of ibex and other animals on them. After driving across the steppe, we had a short stop at Kosh Agach to stock up on essential supplies, in my case, ice-cream! We made good time and arrived at base camp around 16:00, so that after checking the Land Rovers for the long drive back to Novosbirsk and filling in the last datasheets, we were free to relax and enjoy the warm sun. A good time was had by all on the last evening, eating cake and consuming the essential supplies before we went to bed as it started to snow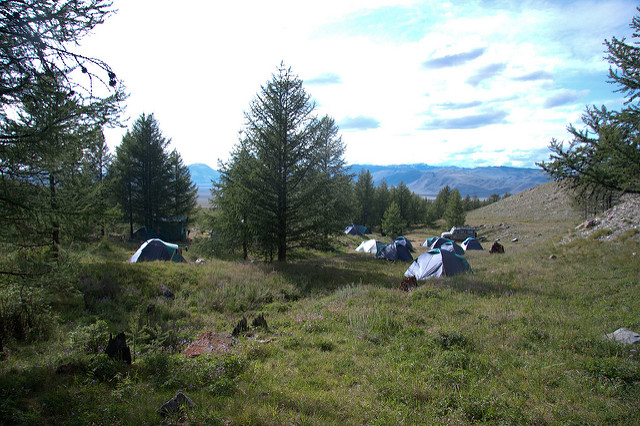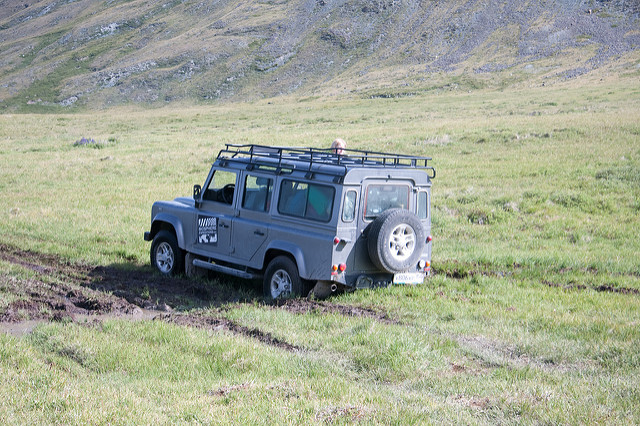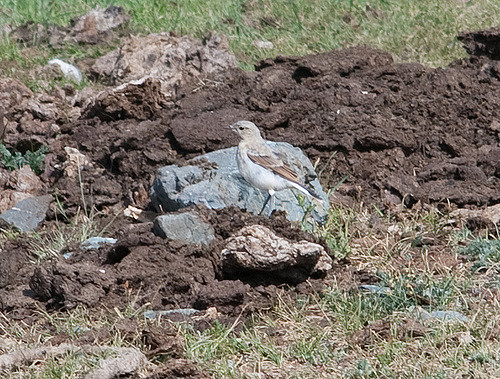 Friday 25th July - Base camp to Mikhailovo
After a team photo with the newly snow dusted mountains in the background, we were off; most sad to leave, others looking forward to a soft bed. We were all looking forward to a big lunch at the Chui Oozi restaurant, however, it was closed, so we had to continue to the café on top of the Chiki Taman pass.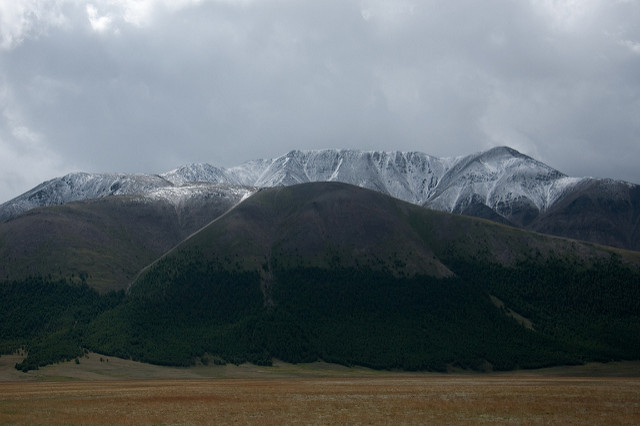 Saturday 26th July - Mikhailovo to Novosibirsk
An early start in the rain, stops at silver springs market, then the honey market where we sampled the worlds best pirozhkis - hot 'pies' filled with either potato, cabbage, meat or egg and onion and bliny - pancakes filled with fruit. So, that's the end of slot 2, the weather was quite poor at times, but we still managed to get a lot of survey work completed. Thorsten's fantastic find of the snow leopard trail was the find of the expedition, but we'll see if we can outdo that during slot 3 or 4.